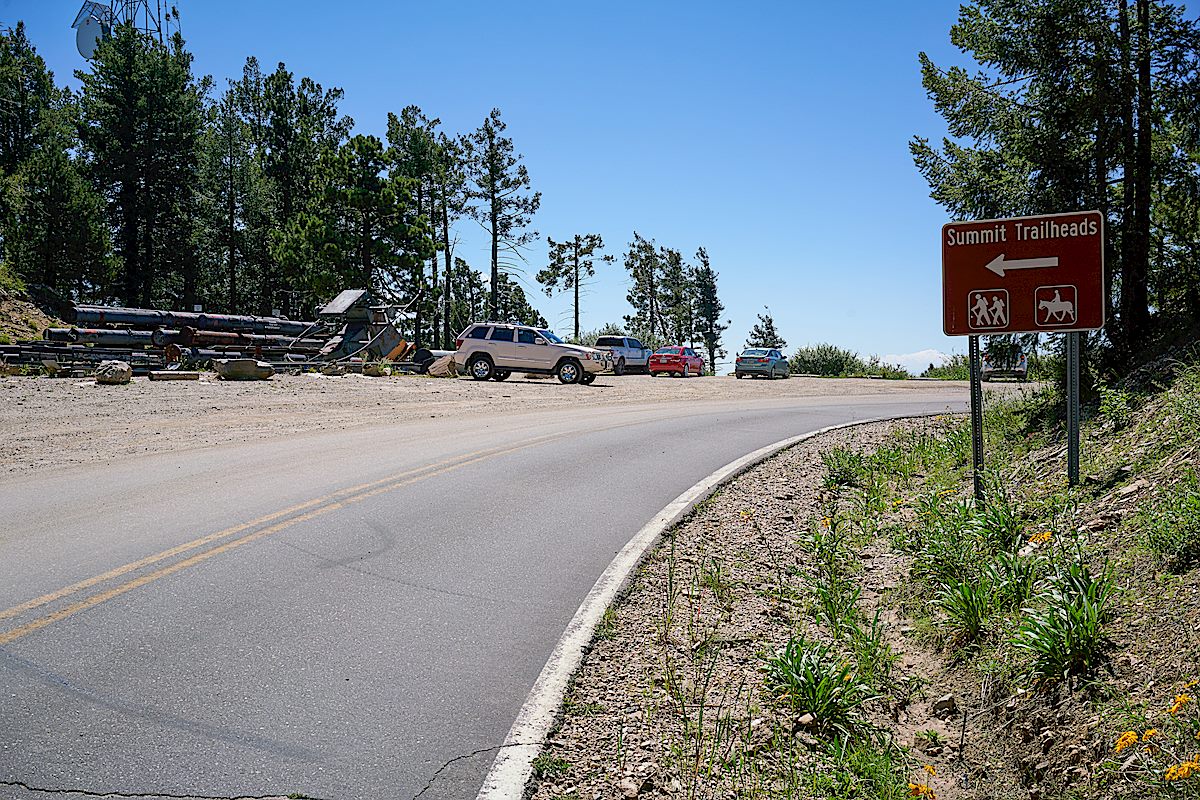 Overview
Driving Time and Distance
1 hour and 25 minutes

from Speedway and Campbell

41.4 miles

from Speedway and Campbell
Miles up Highway:

27.5 miles

Side of the Highway:

Down-mountain

Vehicle Access:

Paved Roads/Passenger Car (Mountain Road - be careful of weather conditions!). Closed to motor vehicles in winter (December 15 to March 1 - dates subject to change depending on weather/conditions).
Fees and Services
Fee:

No

Restrooms:

No

Water:

No
Additional Notes
The final 1.5 miles of the drive to this trailhead are closed to motor vehicles in winter (December 15 to March 1 - dates subject to change depending on weather/conditions) - while the road is still open to non-motorized travel consider accessing this area via Summerhaven and the Aspen Draw Trail or from the Mint Spring Trailhead and the Mint Spring Trail+Aspen Trail.
The 0.2 miles up the road is the Mount Lemmon Recreation Area - which, unlike this trailhead, is a fee area and does have restrooms, picnic benches and trashcans.
If you are curious about the fenced off area at the top of the mountain the University of Arizona SkyCenter runs programs inside the Mount Lemon Observatory Area.
Driving Directions
Google Maps Directions from the Speedway and Campbell intersection in Tucson to Summit Trailhead.
Quick version:
Drive East on Speedway (5.0 miles)
Left on Wilmot and continue on Tanque Verde (4.3 miles)
Left on Catalina Highway (29.1 miles)
Turn right on Ski Run Road (2.7 miles). Note that 1.4 miles up Ski Run Road at Ski Valley and the Iron Door Restaurant there is a gate that is closed seasonally that blocks the last 1.7 miles of the road (Lemmon Rock Road) - when the gate is closed foot traffic up the road is still allowed but consider using the Aspen Draw Trail to access this area (it won't save you time compared to walking the road but has good parking in Summerhaven and is very beautiful!)
The trailhead is a large unsigned gravel parking area on the down-mountain side of the road. At the corner of the parking area a road (closed to vehicles) leads out to the Aspen Trail. Near upper edge of the parking area a trail marker will help you find a short trail to the Mount Lemmon Recreation Area for access to the Meadow Trail, Lemmon Rock Trail and Mount Lemmon Trail.
All Trailheads - Map
Agua Caliente Hill South Trailhead
American Flag Trailhead
Avenida de Suzenu Trailhead
Babad Do'ag Observation Site and Trailhead Parking
Bear Canyon Trailhead
Bigelow Trailhead
Box Camp Trailhead
Bug Spring Trailhead
Catalina State Park Trailhead
Charouleau Gap Trailhead
Davis Spring Trailhead
Golder Ranch Road Parking Area
Gordon Hirabayashi Recreation Site End of the Road Parking Circle
Gordon Hirabayashi Recreation Site Upper Parking Area
Hairpin Turn
Incinerator Ridge Parking Area
Iris Dewhirst Pima Canyon Trailhead
Italian Spring Trailhead
Linda Vista Trailhead
Lizard Rock Parking Pullout
Lower Green Mountain Trailhead
Lower Oracle Ridge Trailhead
Marshall Gulch Trailhead
Milepost 0
Mint Spring Trailhead
Molino Basin Parking Area
Mount Bigelow Butterfly Trailhead
Mount Lemmon Recreation Area
Oracle Ridge Trailhead
Palisade Trailhead
Red Ridge Trailhead
Redington Pass Backcountry Touring Area
Richard McKee Finger Rock Trailhead
Ridgeline Parking Pullout
Sabino Canyon Visitor Center
San Pedro Vista
Soldier Trail Trailhead
Summit Trailheads
Sunset Trailhead
The Lake Trailhead
Update Notes
2018/8/26 – Main image added
2017/8/7 – Img Srcset update, split this and the Mount Lemmon Recreation Area into different pages (the backstory here is that several years ago the Forest Service added picnic benches to the top of the mountain trailhead where 'everyone' parked (I think 'Summit Trailhead' may not have been a completely official name but everyone understood) and it is now a fee area called the 'Mount Lemmon Recreation Area'. Along with that they have now signed the gravel area that this page covers as the 'Summit Trailheads' where you can park without paying a fee. In addition to leaving no-fee parking for users who just want to park off the side of the road and hit the trail this is also probably a useful change just to provide more official parking at the top of the mountain since for years the Summit Parking was overflowing on popular summer weekends!