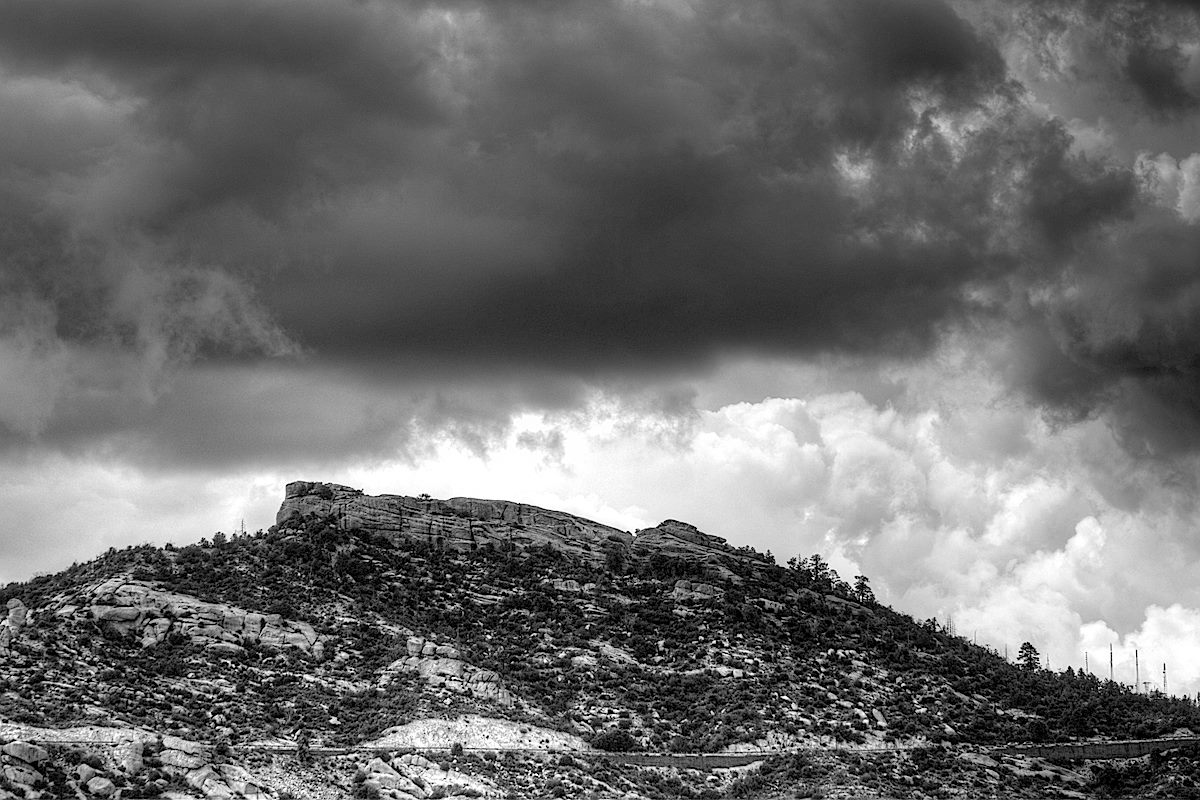 Storm over Lizard Rock - from the east ridge of Bear Canyon. July 2013.
Overview
Not in favor with rock climbers, a bit too far from the road for a picnic, no official trail and too short to ever brag about reaching the top – all of this, plus a great rocky area on top, are what make this a fun adventure! A short – but steep/loose/sandy – off-trail hike up will take you up to views that any fan of the Santa Catalina Mountain will love, a great spot when you have time to relax and linger, perhaps bring your camera and a book…
Hike Stats
Hike Type:

Out and Back

Hiking Distance:

0.5 miles

Elevation Gain:

300'

Elevation Loss:

300'

Highest Elevation:

7,300'

Lowest Elevation:

7,000'
Location
Drive
Driving Distance from Speedway Campbell:

29.6 miles

Driving Time from Speedway Campbell:

55 Minutes

Vehicle Access: Paved Roads/Passenger Car (Mountain Road - be careful of weather conditions!)
Details
Fee:

No

Dogs:

Yes

Bikes: Yes (Most of Lizard Rock is not in the Pusch Ridge Wilderness - however because this is short/off-trail and doesn't connect to other trails this is not suggested for bikes.)
Other Notes
Off-trail hiking in the Santa Catalina Mountains can be hazardous and challenging - make sure you understand the skills you need to stay safe, be cautious and know your limits!
Lizard Rock is split by the boundary of the Pusch Ridge Wilderness - motorized and mechanized vehicles and equipment, including mountain bikes, are not permitted in Wilderness.
Driving Directions
Google Maps Directions from the Speedway and Campbell intersection in Tucson to Lizard Rock Parking Pullout.
Quick version:
Drive East on Speedway (5.0 miles)
Left on Wilmot and continue on Tanque Verde (4.3 miles)
Left on Catalina Highway (20.2 miles)
The pullout is located on the down mountain side of the highway - if traveling up-mountain the pullout is just after two road cuts (left then right).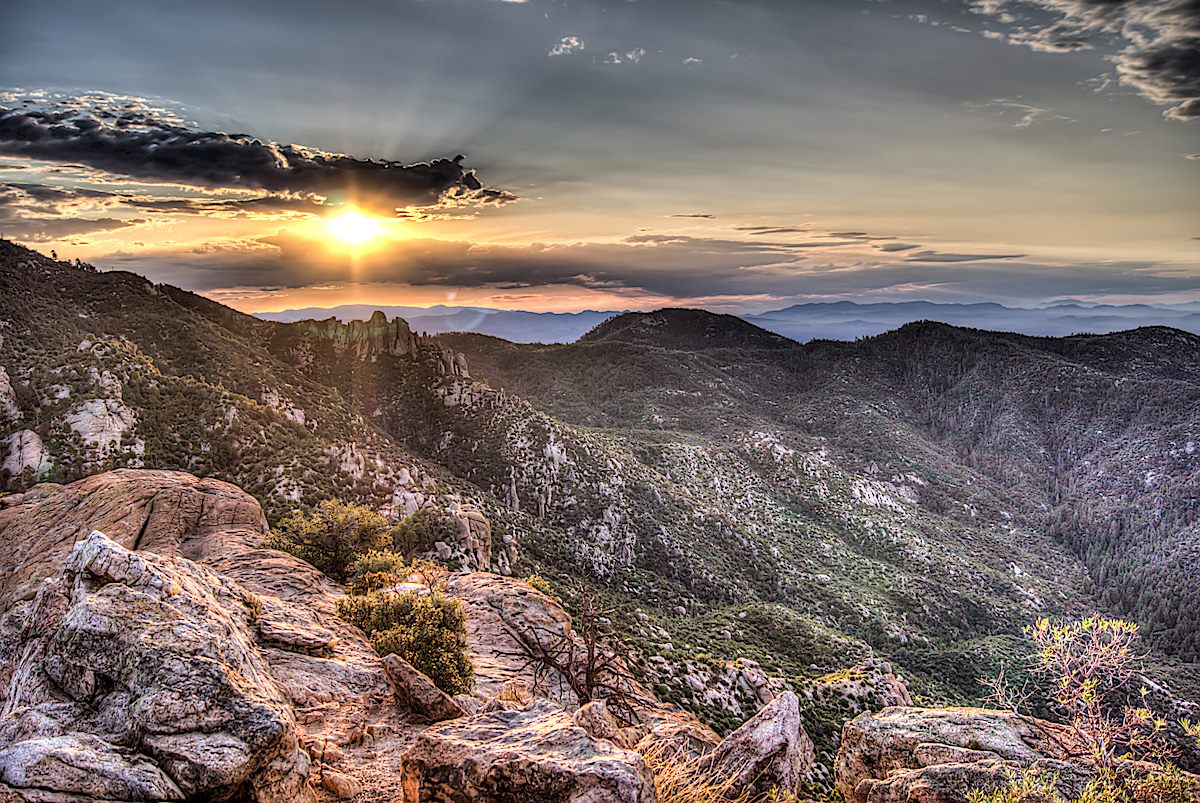 Sunrise on Lizard Rock. July 2013.
Trail Notes
This hike is short, and you might find some paths to the top that other hikers have used – but this is, essentially, an off-trail hike – if you are not comfortable traveling off-trail in the Santa Catalina Mountains you should not attempt this hike.
The mileages and elevations below are approximate (don't expect the values below to match your GPS exactly).
0.0 miles, 7000′: Start from the Lizard Rock Parking Pullout on the west side of the highway [Waypoint LR TH]. There are a number of paths to the top from here…
Take the most obvious faint path up a hill to a campsite.
Take a smaller path to the left – it is faint in places – this path will take you to the top!
0.25 miles, 7300′: The top! [Waypoint LR01]
Be careful with your route down – there are a number of 'wrong turns' that might leave you at the top of a steep cliff…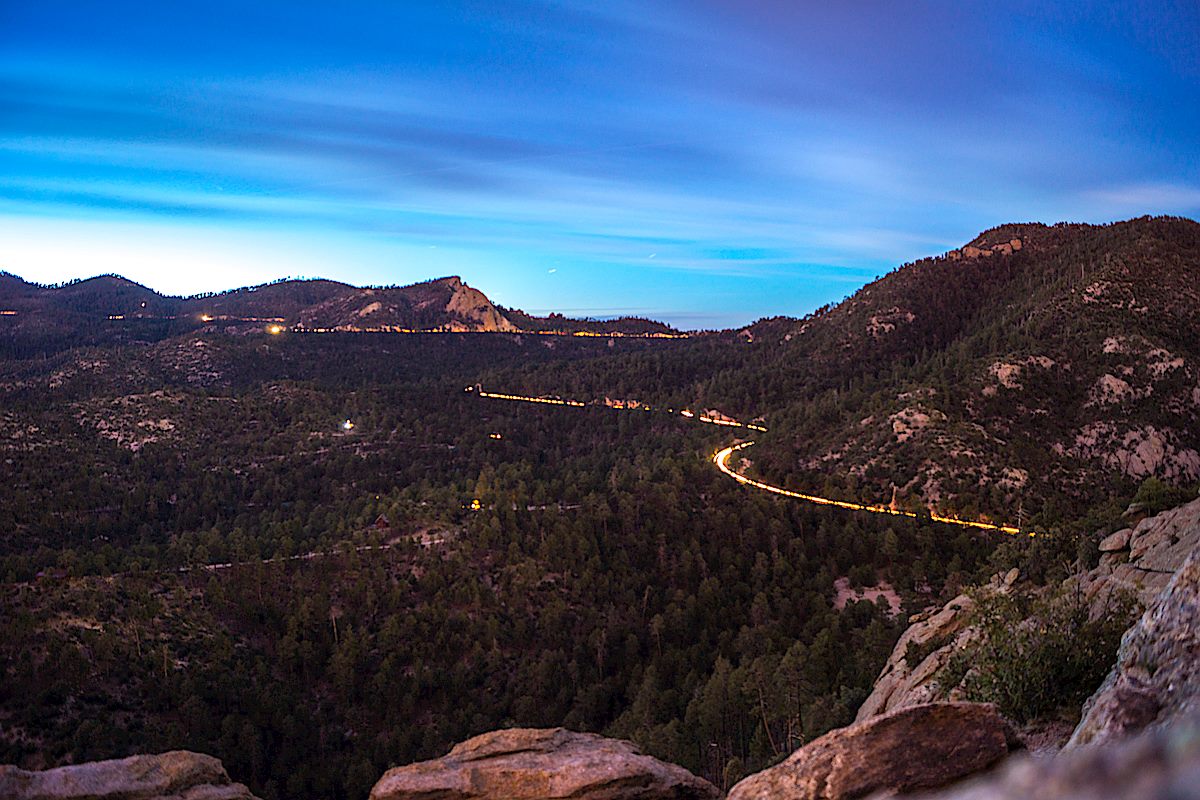 Night on Lizard Rock - cars streaking down the General Hitchcock Highway - Barnum Rock on the skyline. June 2013.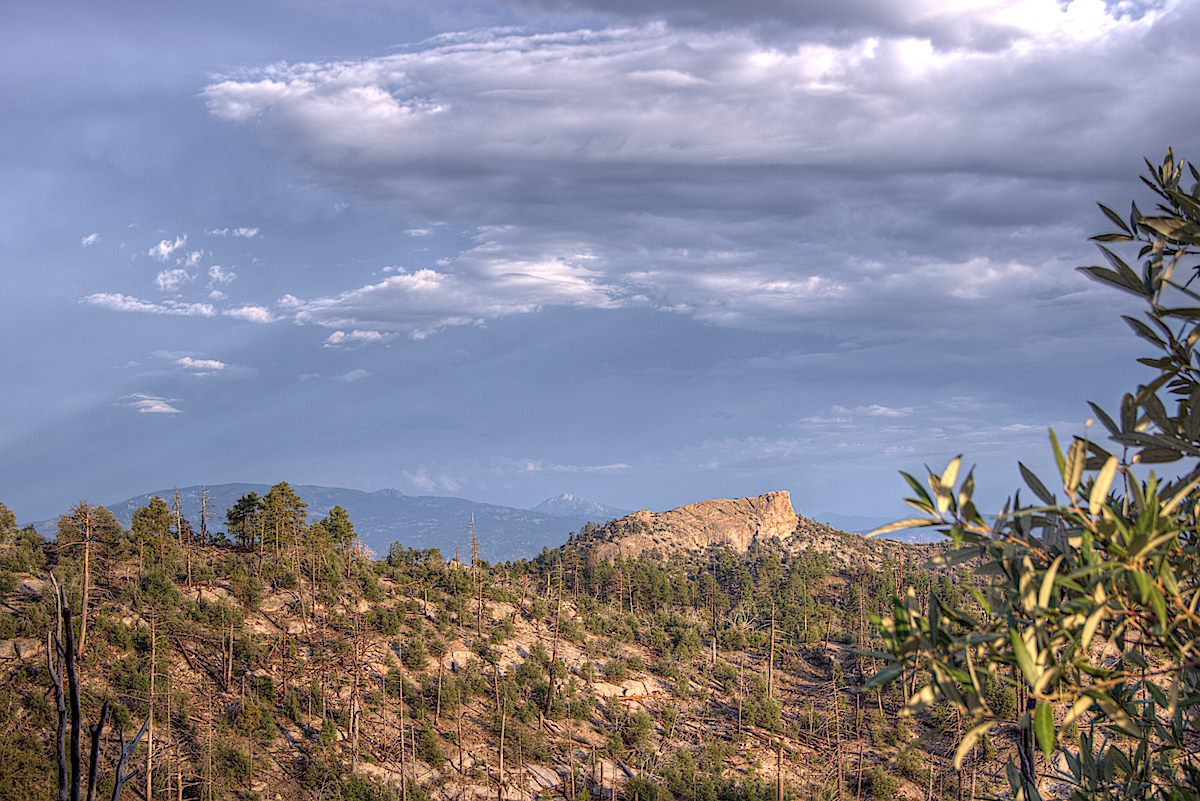 Lizard rock from the east ridge of Sycamore Canyon. July 2013.
Pictures
2013 July Lizard Rock in the Moonlight
2013 July Lizard Rock Night Sky
2013 July Lizard Rock Sunrise
2013 June Lizard Rock Sunset and Moonrise
Update Notes
2017/8/17 – Add HikeLemmon posts to resources
2017/8/14 – Img Srcset update, fix several typos, add an off-trail warning
2014/3/23 – Added elevation profile and added simple waypoints into GPX
2014/3/6 – Update to WordPress
2014/1/28 – New driving directions section, slight format updates, dates in picture descriptions and link changes for pictures.
2013/10/13 – new Overview Format