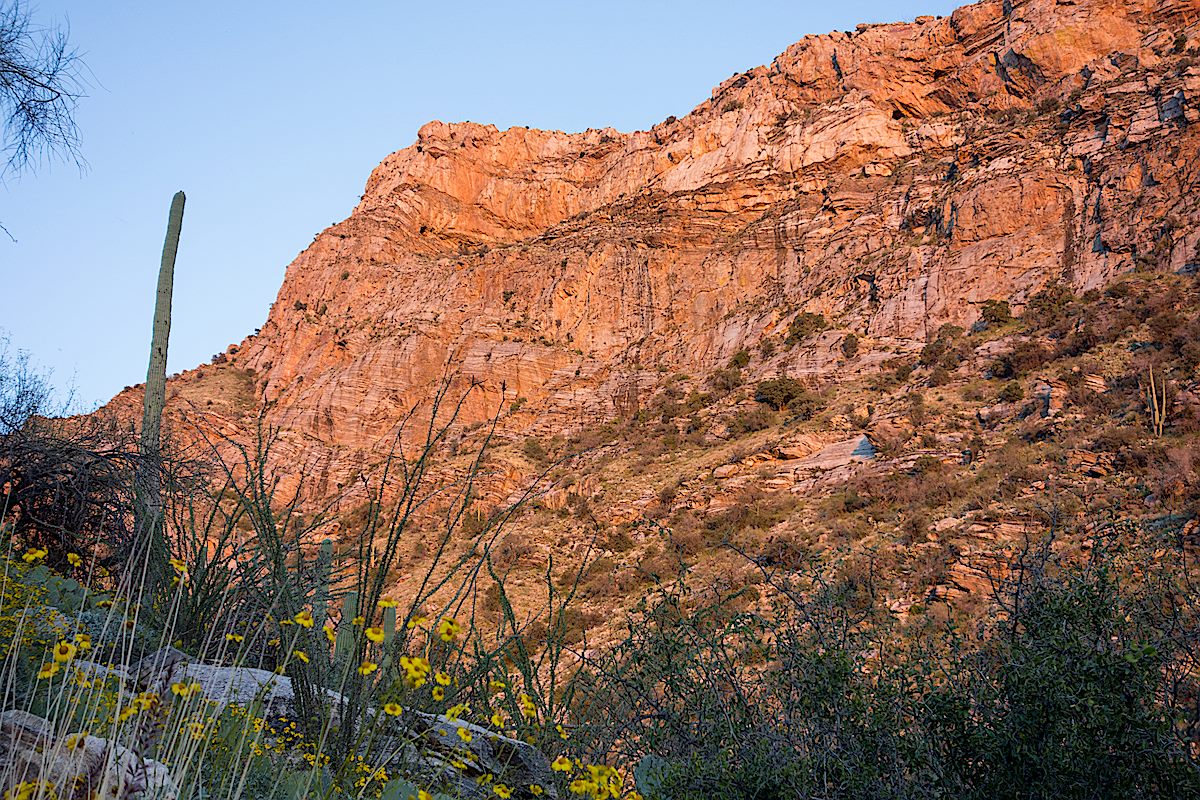 Pontatoc Ridge in the Sunset from the Pontatoc Canyon Trail. March 2015.
Overview
The Pontatoc Ridge Trail and Pontatoc Canyon Trail share the same start, parting ways at signed junction on a steep hillside – you might, if you have not read about these trails, think that the Pontatoc Canyon Trail is the easier choice (a pleasant ramble by the canyon perhaps?) – and after the climb to the junction that might sound appealing…
But in truth the Pontatoc Canyon Trail is the longer, more difficult and more rugged trail! For the most part the trail runs above the west side of the canyon, eventually yielding great views of Pontatoc Ridge, and occasionally dropping into the bottom of the canyon.
The Pontatoc Canyon Trail was impacted by the Finger Rock Fire in 2015 and the upper section of the trail – still shown here in the map/gps data – should probably be considered an off-trail adventure, be sure to see the notes about the hike below for more information about this.
Hike Stats
Out and Back

5.5 miles

2,800'

Elevation Gain

2,800'

Elevation Loss
Highest Elevation:

5,050'

Lowest Elevation:

3,050'
Drive
8.4 miles

from Speedway and Campbell

20 Minutes

from Speedway and Campbell
Vehicle Access: Paved Roads/Passenger Car
Driving Directions
Driving Directions from the Speedway and Campbell intersection in Tucson - Richard McKee Finger Rock Trailhead:
North on Campbell (6.4 miles)
Right onto Skyline (0.4 miles)
Left to continue on Skyline (0.7 miles)
Left on North Alvernon Way (0.9 miles)
The trailhead is on the left/west side of the road.