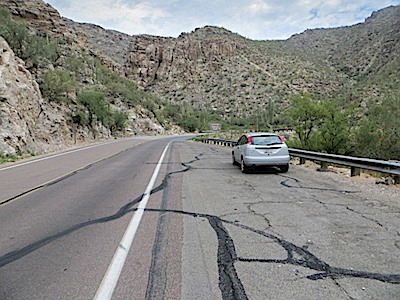 Overview
Driving Time and Distance from Tucson
27 Minutes

from Speedway and Campbell

14.4 miles

from Speedway and Campbell
Miles up Highway:

0.5 miles

Side of the Highway:

Up-mountain

Vehicle Access:

Paved Roads/Passenger Car
Fees and Services
Fee:

No

Restrooms:

No

Water:

No
There are no official trails at Hairpin Turn – while hikers will occasionally use this for off-trail access into the Soldier Canyon it is more frequently used by climbers accessing the Hairpin Turn Area.
Driving Directions
Driving Directions from the Speedway and Campbell intersection in Tucson - Hairpin Turn:
Drive East on Speedway (5.0 miles)
Left on Wilmot and continue on Tanque Verde (4.3 miles)
Left on Catalina Highway (5.1 miles)
The parking area is on the up-mountain side of the Highway. A brown 'Parking Pullout' sign marks the area on the up-mountain side of the highway.