Overview
The Lemmon Rock Trail #12 breaks off the Lemmon Trail not far from the Summit Trailhead and descends steeply to a junction with the Wilderness of Rock Trail. Accumulating just over 1800′ of elevation loss in just 2.5 miles this trail is a stiff workout and offers perhaps the best views on the mountain of the huge rock formations known to climbers as Rappel Rock, The Fortress and The Ravens.
Hike Stats
Out and Back

5 miles

1,850'

Elevation Gain

1,850'

Elevation Loss
Highest Elevation:

9,100'

Lowest Elevation:

7,300'
Drive
41.6 miles

from Speedway and Campbell

1 hour and 25 minutes

from Speedway and Campbell
Vehicle Access: Paved Roads/Passenger Car (Mountain Road - be careful of weather conditions!). Closed to motor vehicles in winter (December 15 to March 1 - dates subject to change depending on weather/conditions).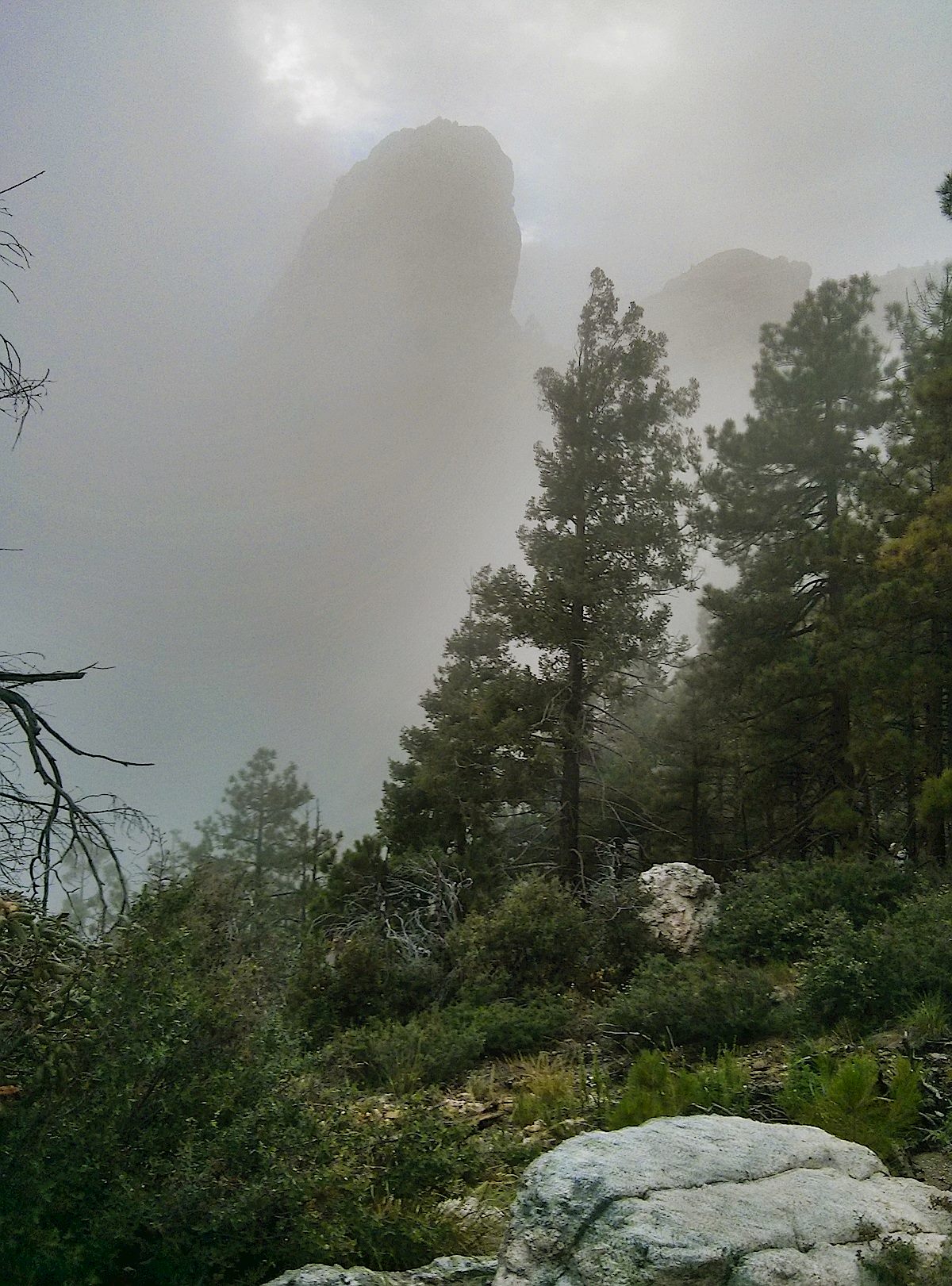 Driving Directions
Driving Directions from the Speedway and Campbell intersection in Tucson - Mount Lemmon Recreation Area:
Drive East on Speedway (5.0 miles)
Left on Wilmot and continue on Tanque Verde (4.3 miles)
Left on Catalina Highway (29.1 miles)
Turn right on Ski Run Road (2.7 miles). Note that 1.4 miles up Ski Run Road at Ski Valley and the Iron Door Restaurant there is a gate that is closed seasonally that blocks the last 1.7 miles of the road (Lemmon Rock Road) - when the gate is closed foot traffic up the road is still allowed but consider using the Aspen Draw Trail to access this area (it won't save you time compared to walking the road but has good parking in Summerhaven and is very beautiful!)
Continue 0.2 miles past the Summit Trailhead (a gravel parking area on the down-mountain side of the road) to the Mount Lemmon Recreation Area. The trailhead is near a fenced in power station - there is a (normally) closed gate into the Mount Lemon Observatory Area just after the turn for the trailhead - if you drive into the fenced in Mount Lemon Observatory Area you have gone too far...