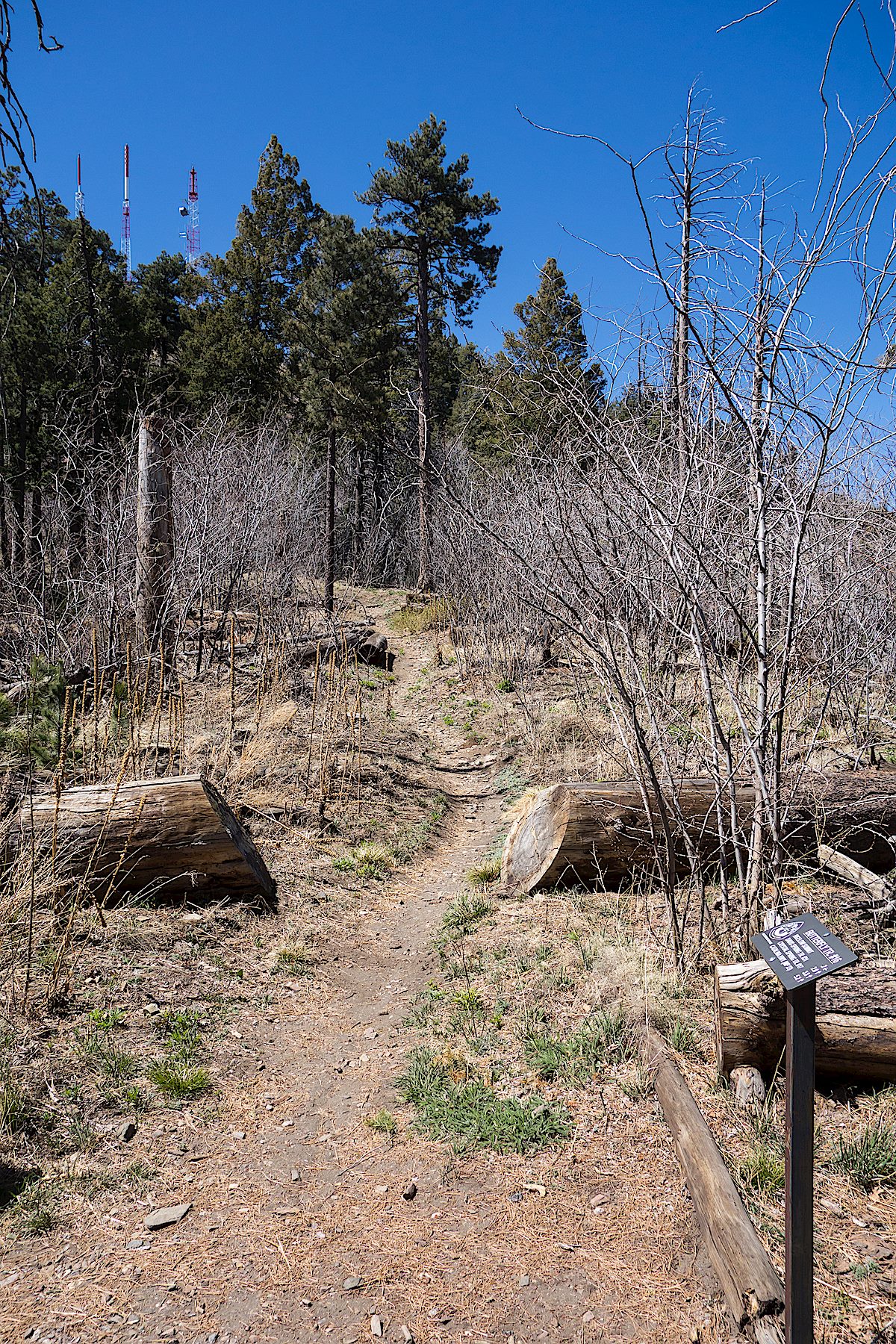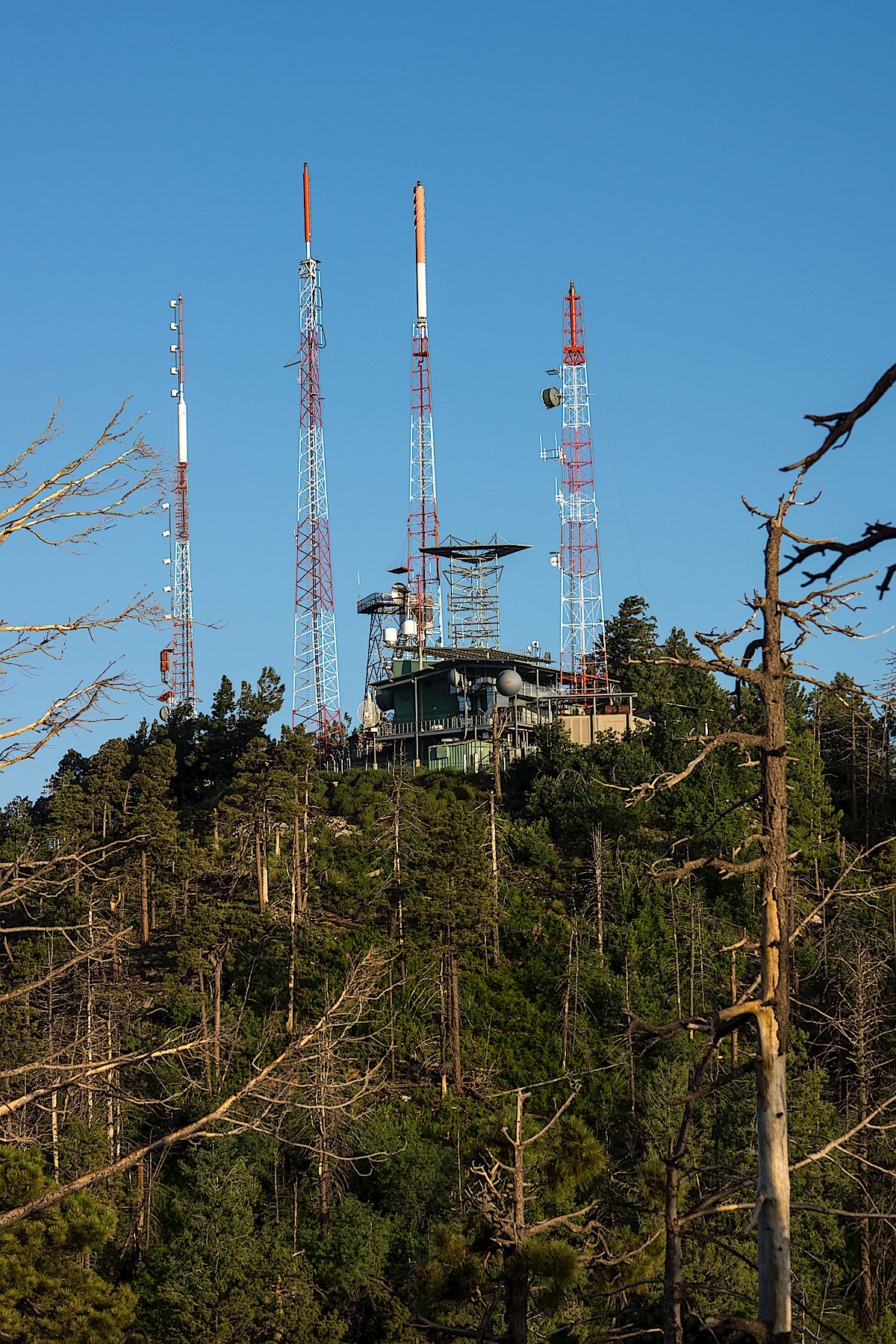 Left: The Junction of the Kellogg Mountain, Butterfly and Mount Bigelow Trails looking up the trail to Mount Bigelow. April 2014
Right: Buildings and Towers on Mount Bigelow. July 2013
Overview
Mount Bigelow – covered in towers and encircled by a dirt road – is not the most attractive destination in the Santa Catalina Mountains… But ignore the buildings and this short hike offers a nice short climb, trees, flowers (in the right season), connections to several other trails and several nice views!
Hike Stats
Hike Type:

Out and Back

Hiking Distance:

1.9 miles

Elevation Gain:

600'

Elevation Loss:

600'

Highest Elevation:

8,535'

Lowest Elevation:

7,950'
Location
Drive
Driving Distance from Speedway Campbell:

33.4 miles

Driving Time from Speedway Campbell:

1 hour and 5 minutes

Vehicle Access: Paved Roads/Passenger Car (Mountain Road - be careful of weather conditions!)
Details
Fee:

No

Dogs:

Yes

Bikes:

Yes
Driving Directions
Google Maps Directions from the Speedway and Campbell intersection in Tucson to Bigelow Trailhead.
Quick version:
Drive East on Speedway (5.0 miles)
Left on Wilmot and continue on Tanque Verde (4.3 miles)
Left on Catalina Highway (24 miles)
Signs will help you locate the trailhead on the up-mountain side of the highway.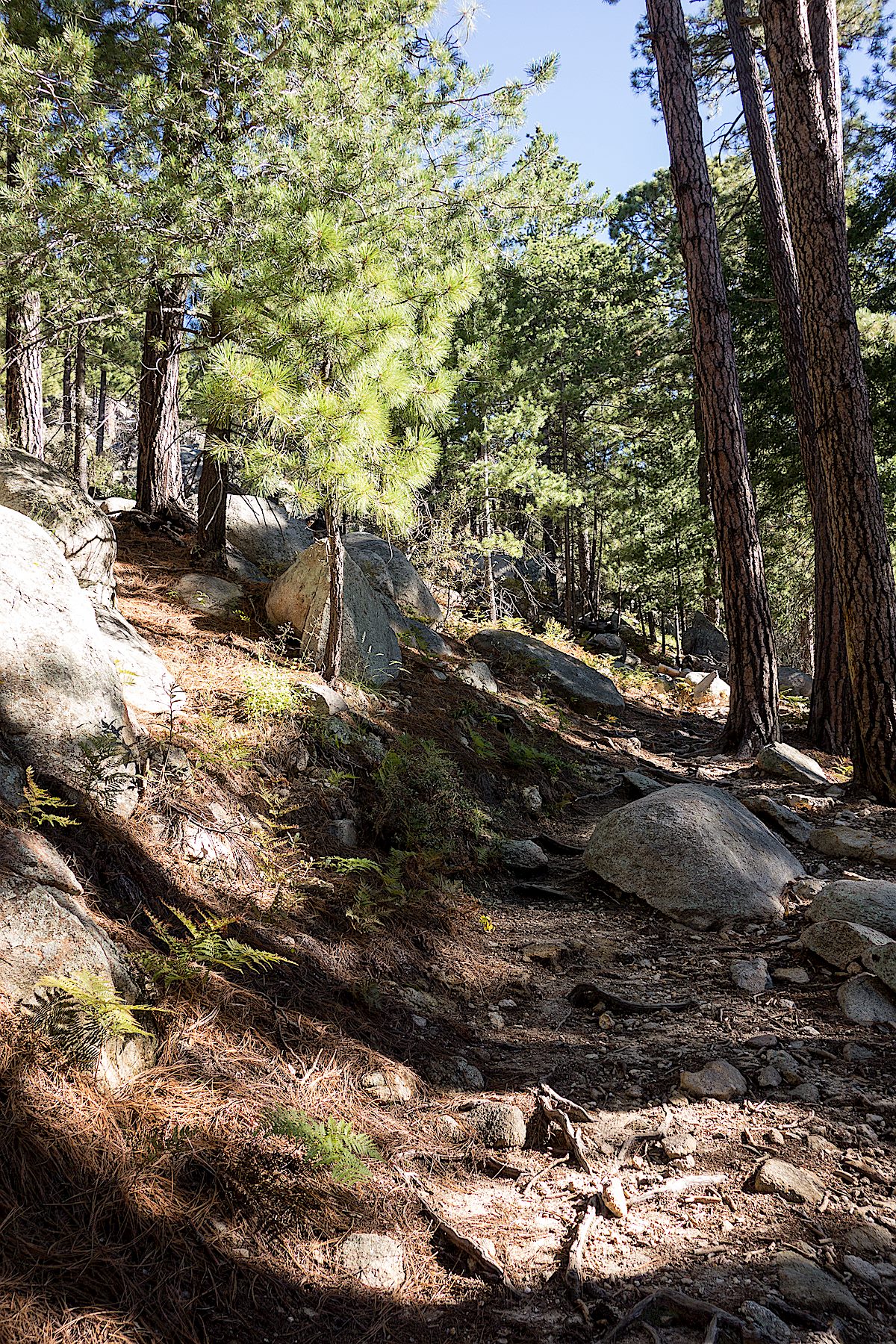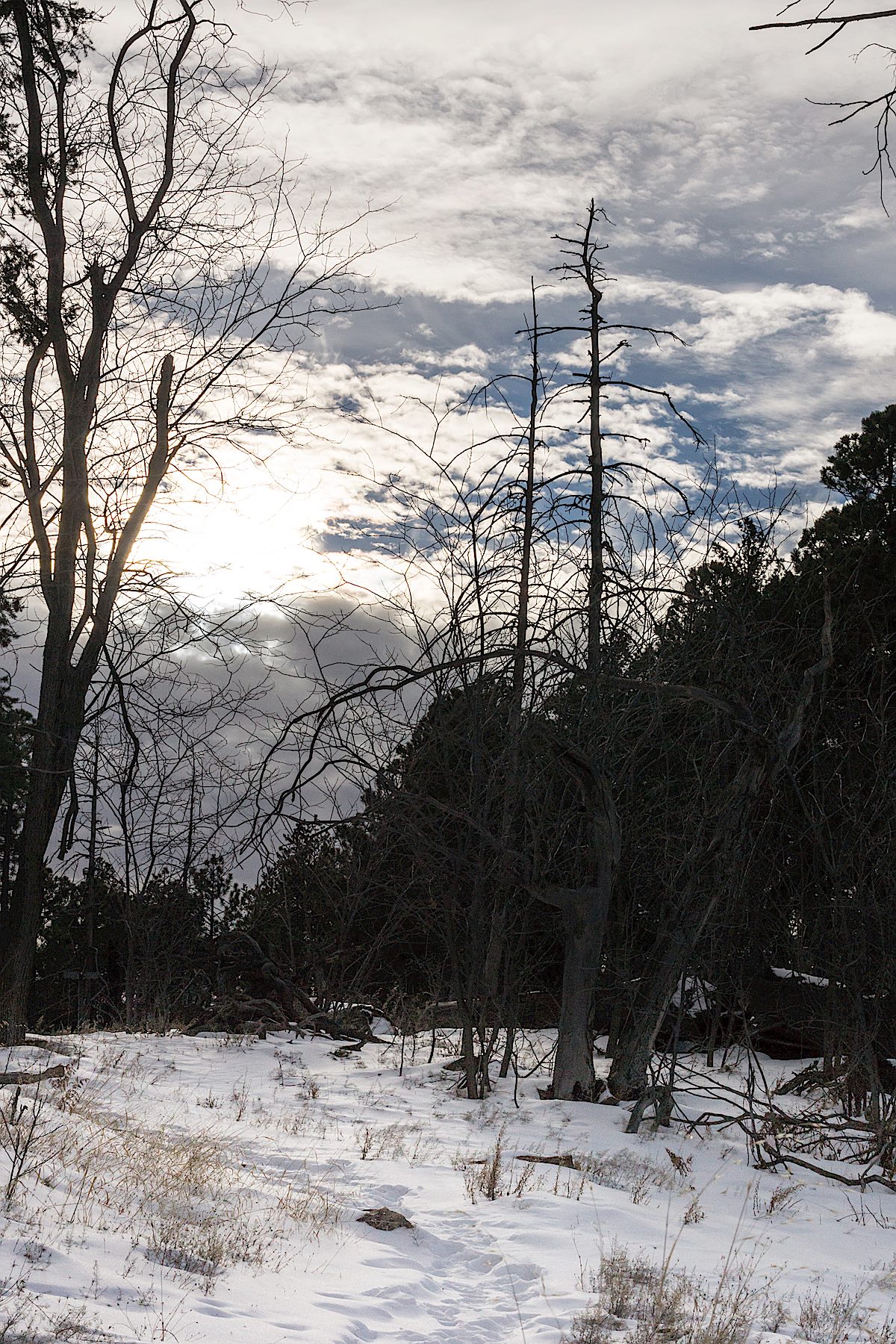 Left: he Bigelow Trail winding thru the trees. September 2014
Right: Snow at the junction of the Kellogg Mountain, Butterfly and Bigelow Trails. December 2014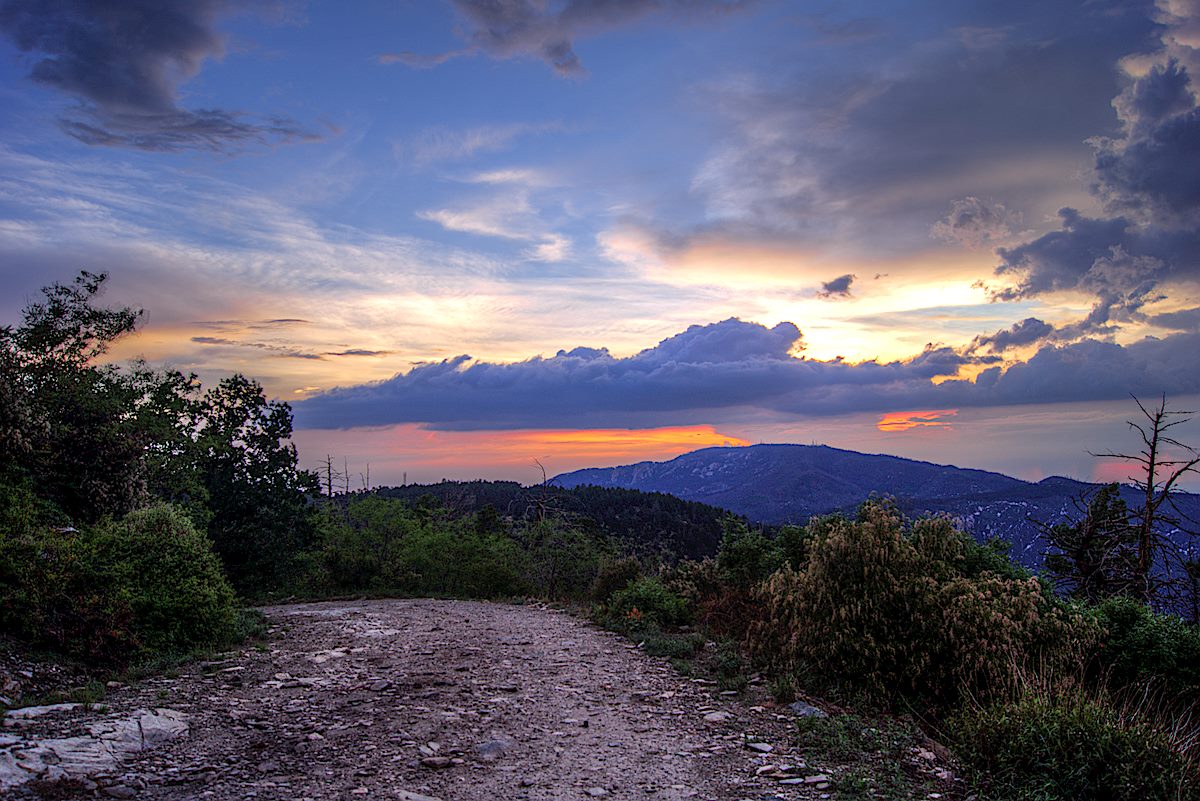 Sunset - near Mount Bigelow. July 2013
Trail Notes
The mileages and elevations below are approximate (don't expect the values below to match your GPS exactly).
0.0 miles, 7980′: Start at the Bigelow Trailhead. [Waypoint thbg]
The trail winds thru areas with older trees and more open areas touched by past fires as it climbs towards the ridge.
0.6 miles, 8300′: Signed junction of the Butterfly Trail, Kellogg Trail and the Bigelow trail [Waypoint b-bg-kl]. Continue uphill to the west to climb to Mount Bigelow on the Butterfly Trail.
0.7 miles, 8350′: Look for an unsigned junction and make a sharp right.
Pass a small side trail to an old campsite as the trail turns – reach the Bigelow Road at 0.85 miles, 8500′ [Waypoint b-bgr/]
Take a left on the Bigelow Road – pass the Mount Bigelow Butterfly Trailhead [Waypoint thbgb] and keep walking down the road.
1.0 miles, 8470′: Across from the last building look for a trail leaving the road and heading south-east (this junction is unsigned) [Waypoint bg01].
1.15 miles, 8350′: Arrive back at the unsigned junction where you took a sharp right on your way up. From here return back down to the Signed junction of the Butterfly Trail, Kellogg Trail and the Bigelow trail [Waypoint b-bg-kl] (1.3 miles) and then down the Bigelow Trail to the Bigelow Trailhead (1.9 miles).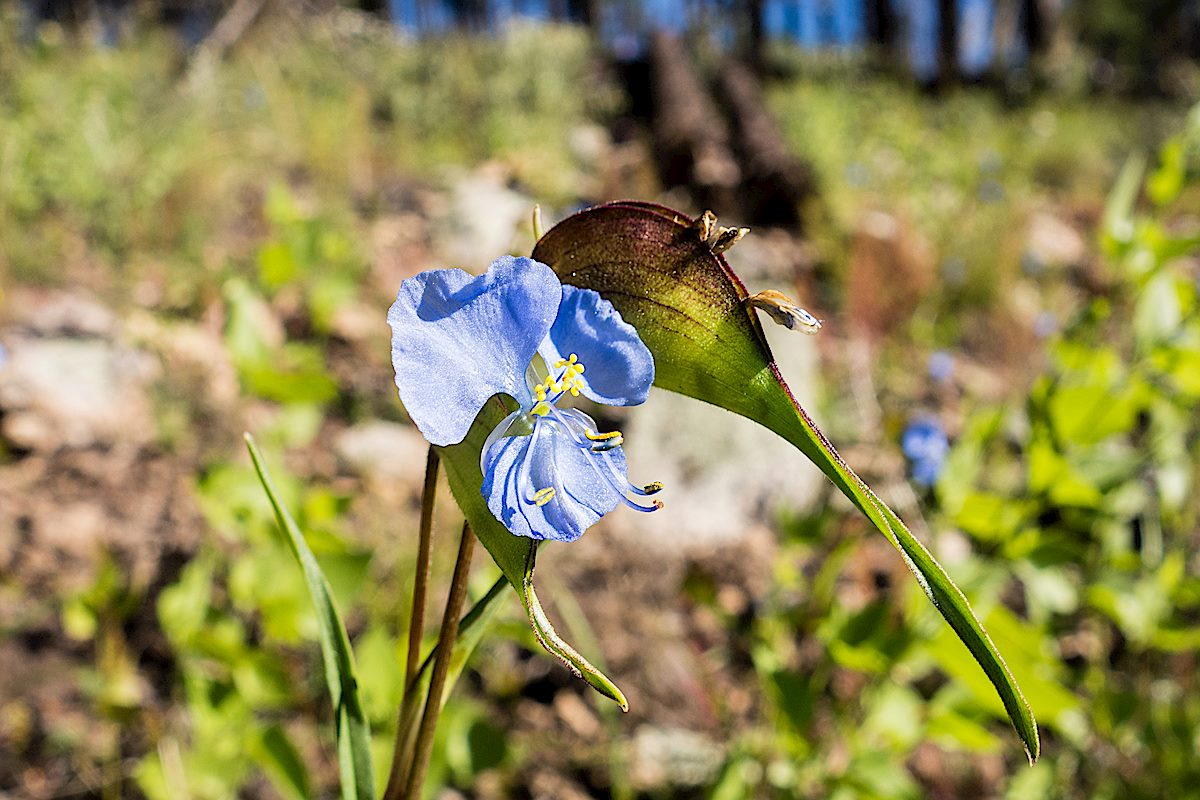 Dayflower on the Bigelow Trail. September 2014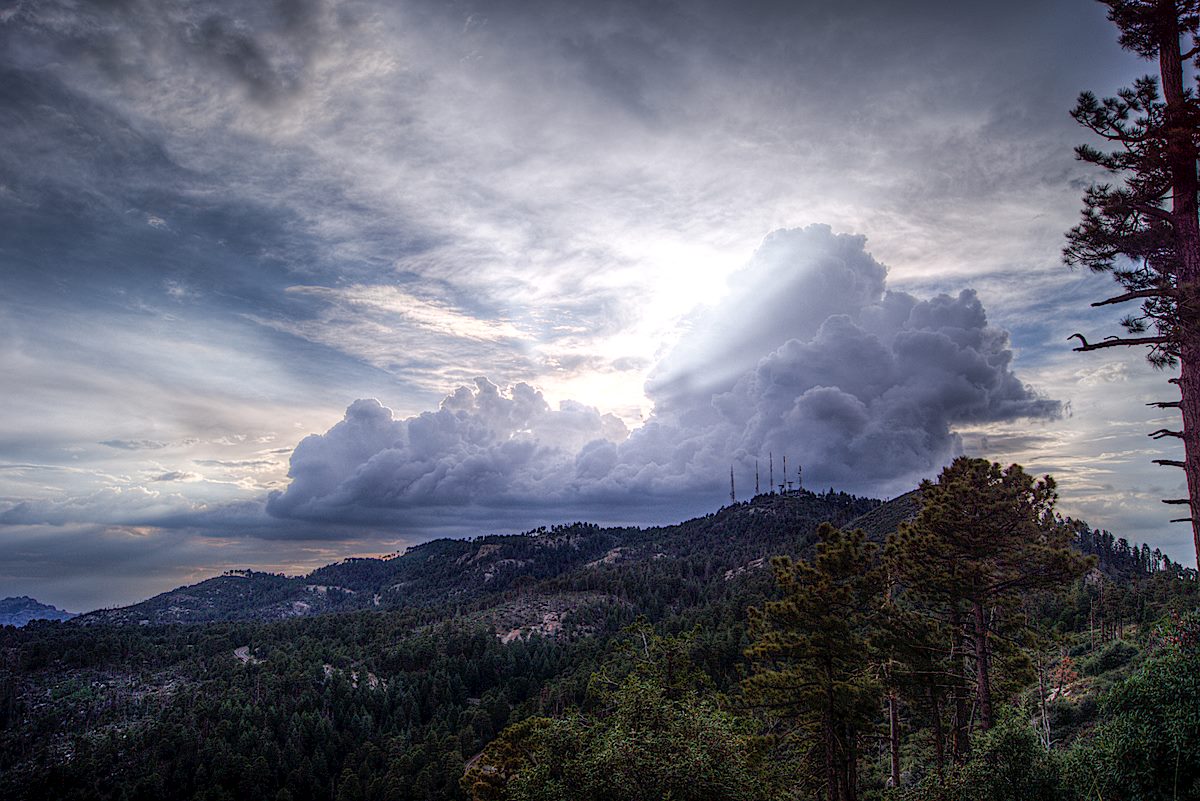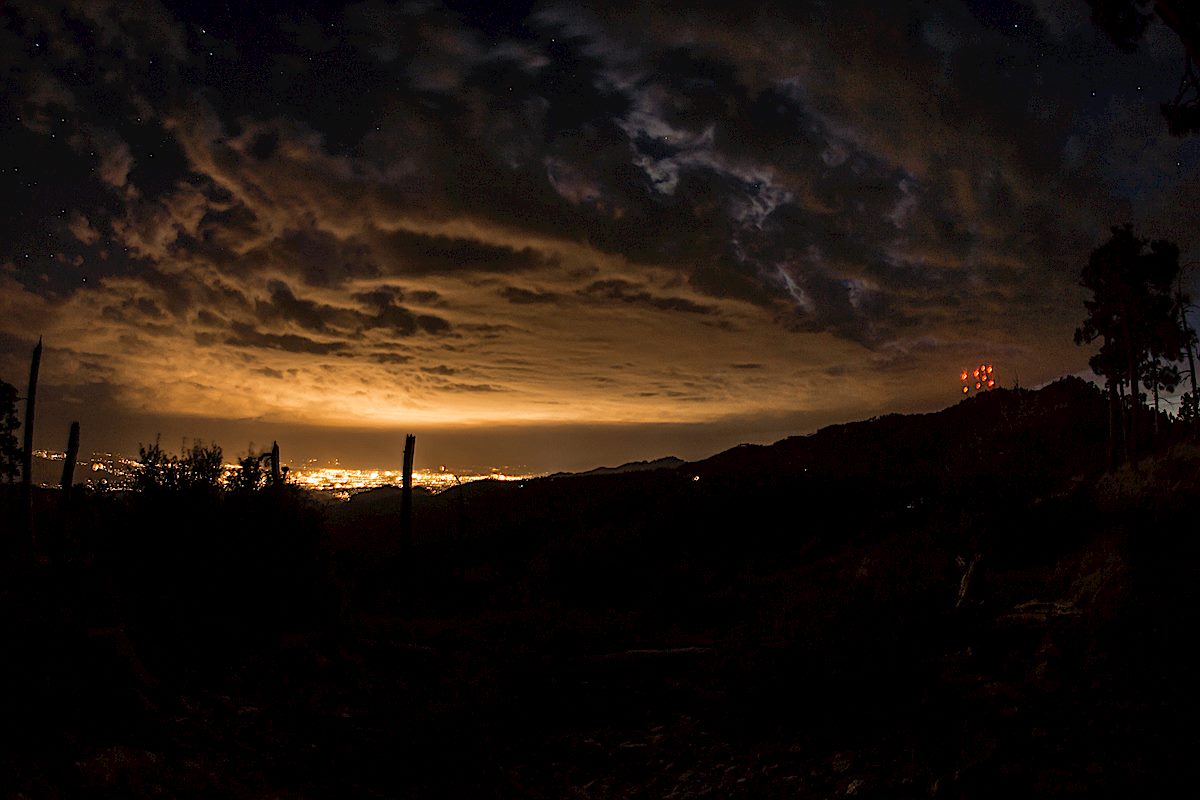 Left: Clouds behind Mount Bigelow - from Incinerator Ridge. July 2013
Right: Glowing red lights on Mount Bigelow - from Incinerator Ridge. July 2013
Pictures
2014 September Bigelow Trail
2013 July Incinerator Ridge, Kellogg Mountain Trail, Mount Bigelow
Update Notes
2017/8/15 – HikeLemmon posts added to resources
2017/7/30 – Srcset Image Update
2015/3/19 – Initial version