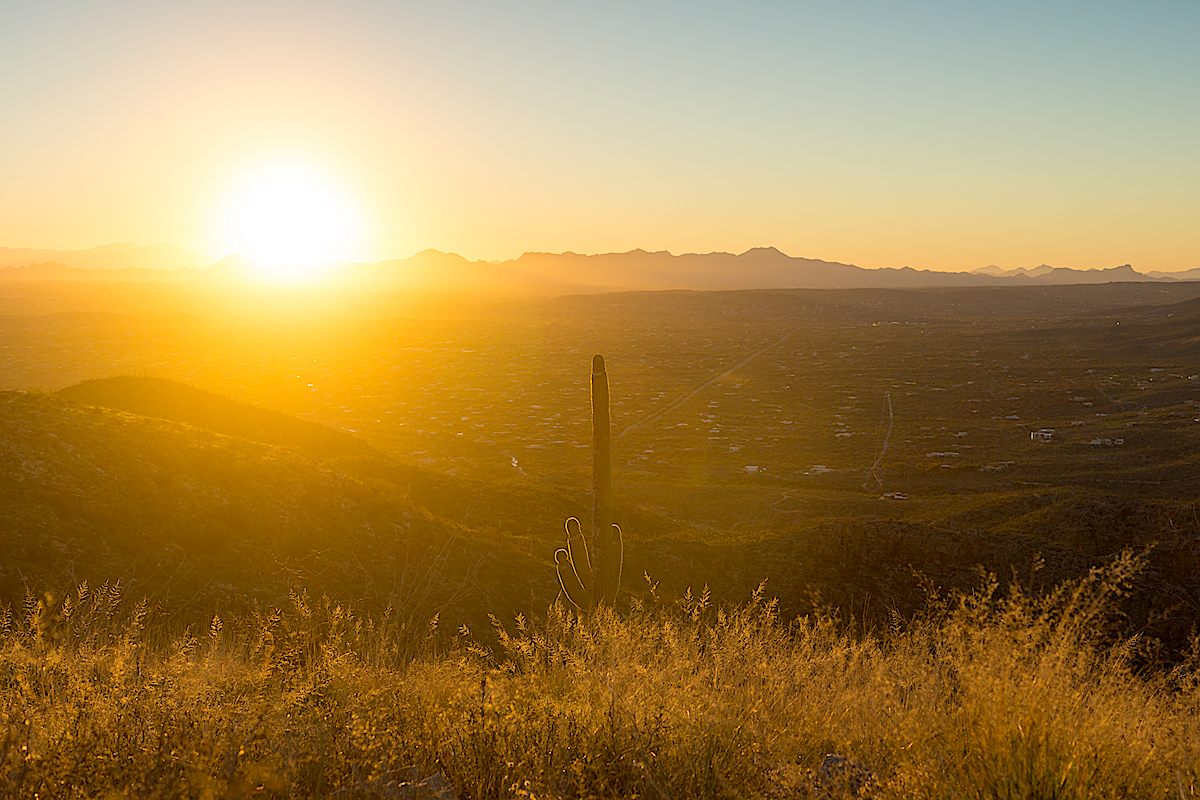 Overview
The La Milagrosa and Agua Caliente Canyon Trail loop is an amazing tour thru a saguaro filled desert and across two unique canyons – with some luck you might even find running water, a beautiful sight in the desert!
Hike Stats
Loop

6.1 miles

1,450'

Elevation Gain

1,450'

Elevation Loss
Highest Elevation:

3,750'

Lowest Elevation:

2,800'
Details
Fee:

No

Dogs:

Yes

Bikes:

Yes
Drive
14.6 miles

from Speedway and Campbell

35 Minutes

from Speedway and Campbell
Vehicle Access: Paved Roads/Passenger Car
Driving Directions
Google Maps Directions from the Speedway and Campbell intersection in Tucson to Avenida de Suzenu Trailhead.
Quick version:
East on Speedway (5.0 miles)
Left on Wilmot and continue on Tanque Verde (4.3 miles)
Left on Catalina Highway (3.7 miles)
Right on Snyder (1.3 miles)
Left on Avenida De Suzenu (0.3 miles)
The parking is the dirt shoulder on the side of Suzenu south of Horsehead Road.
Trail Notes
The mileages and elevations below are approximate (don't expect the values below to match your GPS exactly).
0.0 miles, 2780′: Start at the Avenida de Suzenu Trailhead [Waypoint thast]. Walk around the gate and east along Horsehead Road.
0.6 miles, 2800′: Pass Wentworth Road and continue east around a gate [Waypoint hhr-lmg], across Molino Canyon and up a small hill.
0.8 miles, 2810′: After the trail makes a short descent look for an unsigned junction and take a left (to the east) for the La Milagrosa Trail [Waypoint lmg-acc-w]. (The Agua Caliente Canyon Trail continues to the right to, and across, the Agua Caliente Wash.)
The trail climbs onto the north ridge of La Milagrosa Canyon.
1.2 miles, 3110′: The trail passes a fallen gate and fence [Waypoint lmg01].
At about 1.3 miles – just before the trail turns north and descends to the bottom of La Milagrosa Canyon – an obvious side-trail takes you to an overlook with views of a deep section of canyon that often holds a large pool of water.
1.5 miles, 3130′: Cross La Milagrosa Canyon at a lovely rocky area – when there is water this is a great place for a break. [Waypoint lmg02]
After crossing La Milagrosa Canyon the trail climbs to the top of the ridge between Agua Caliente and La Milagrosa Canyons.
2.4 miles, 3590′: At an unsigned junction stay right to leave the La Milagrosa Canyon Trail and continue down into Agua Caliente Canyon [Waypoint lmg-acc-e] – pass a gate at approximately 2.5 miles [Waypoint acc06].
2.8 miles, 3420′: Enter Agua Caliente Canyon [Waypoint acc05] – the trail along the canyon bottom can be indistinct and it is possible to walk directly down the canyon without too much difficulty (wet feet and slippery rocks are both possible…) – either way the important detail is to find the trail leaving the canyon at [Waypoint acc04] (3.0 miles, 3400′).
3.6 miles, 3730′: The trail reaches an unsigned junction with Forest Road 4445 [Waypoint acc-fr4445] – take the right hand trail to continue the loop. (Forest Road 4445 – to the left – continues up the hill to the ridge and connects to the Agua Caliente Hill Trail.)
3.8 miles, 3680′: Pass Gnat Tank on the left [Waypoint gnt]. Many maps will show FR4446 continuing to the south from Gnat Tank towards Roger Road but that route is not heavily used and can be hard to find – read more about it in FR4446 from Gnat Tank to the Private Land Boundary – 2/8/2015.
4.8 miles, 3150′: Go thru a gate on the ridge [Waypoint acc03]
4.9 miles, 3070′: Turn north [Waypoint acc02] (avoiding another trail that continues along the ridge) and descend down the hillside towards the canyon.
5.2 miles, 2860′: Stay right at a gate [Waypoint acc01], cross Agua Caliente Wash and continue back to the junction with the La Milagrosa Trail at 5.3 miles, 2810′ [Waypoint lmg-acc-w]. Take a left and continue across Molino Canyon, back to Horsehead Road and out to the Avenida de Suzenu Trailhead. 6.1 miles, 1450′.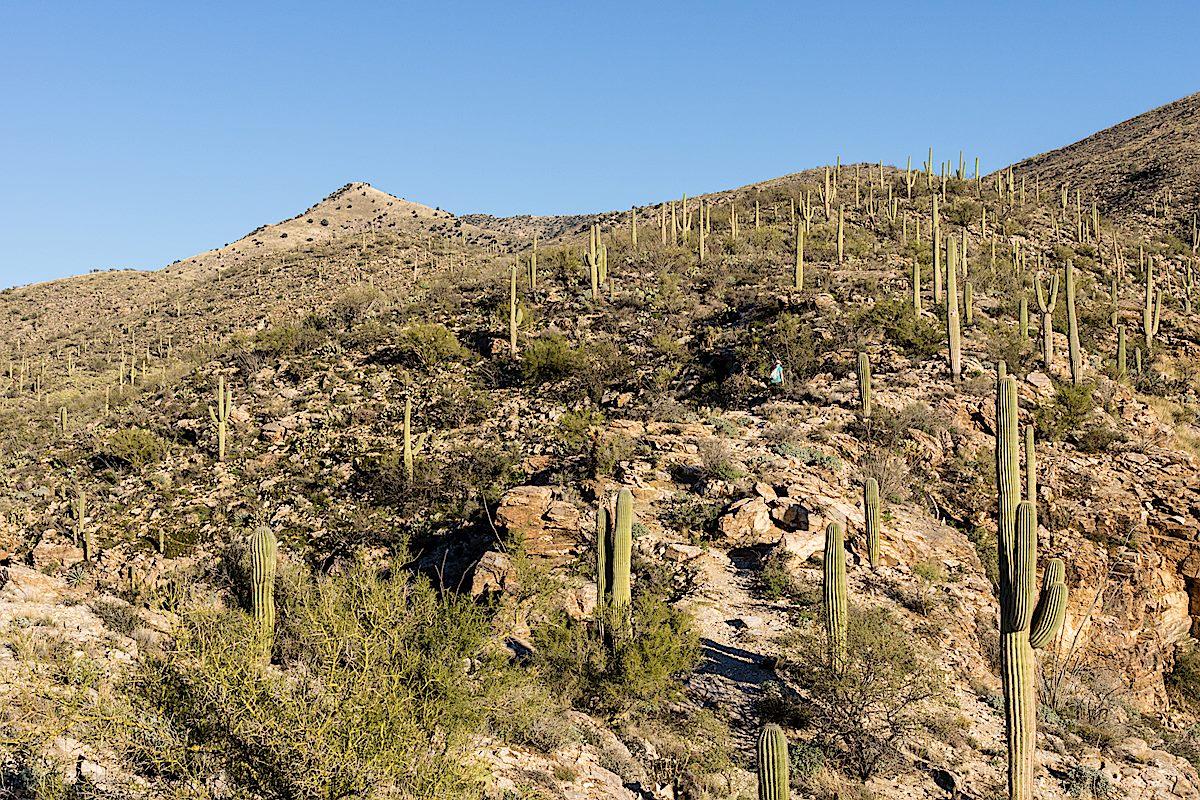 Pictures
2015 November Agua Caliente Canyon Trail La Milagrosa Loop
2015 November Agua Caliente Canyon Trail La Milagrosa Loop
2015 March Agua Caliente – La Milagrosa Trail Loop
2015 March Agua Caliente La Milagrosa Loop
2015 February Agua Caliente Canyon
2014 December Milagrosa Loop
Update Notes
2017/8/14 – HikeLemmon posts added to Resources
2017/8/13 – Img Srcset update, added link to La Milagrosa Trail, small layout update
2016/2/12 – Updated GPX, added new photo set, minor description and text updates
2016/2/8 – Fix broken image
2015/11/29 – New picture set linked
2015/3/15 – Added new pictures
2015/2/18 – Initial version