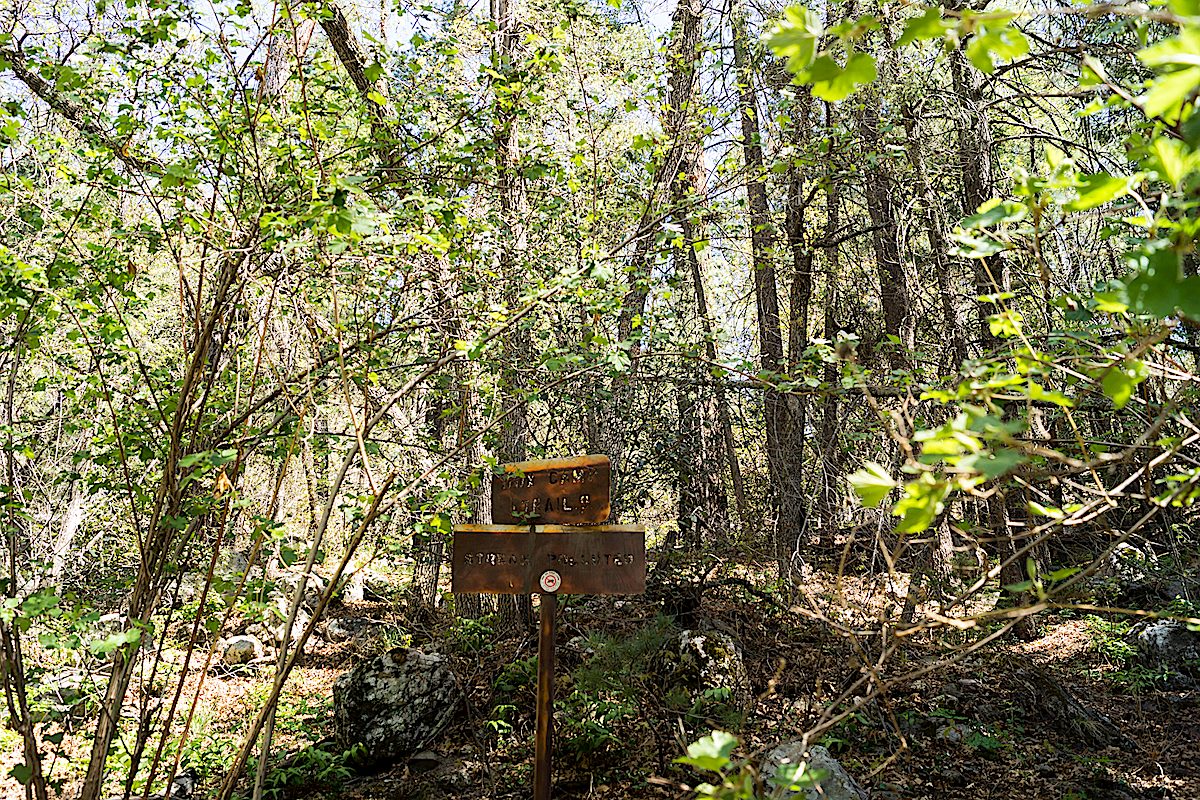 Overview
The water of Sabino Canyon is an attractive destination – if you study the current trail maps for the Santa Catalina Mountains you might think that the Box Spring Trail will provide easy access to an interesting part of Sabino Canyon… But the journey down to Sabino Canyon via the Box Spring Trail is currently an off-trail route! If you are up for an off-trail adventure this route will almost certainly reward you with solitude along a lovely stretch of Sabino Canyon.
Hike Stats
Out and Back

5.5 miles

2,600'

Elevation Gain

2,600'

Elevation Loss
Highest Elevation:

8,100'

Lowest Elevation:

6,600'
Details
Fee:

No

Dogs:

Yes

Bikes: No (Pusch Ridge Wilderness)
The Box Spring Trail no longer exists as it is shown on many maps - most of this hike is an off-trail route! Off-trail hiking in the Santa Catalina Mountains can be hazardous and challenging - make sure you understand the skills you need to stay safe, be cautious and know your limits!
Drive
35.3 miles

from Speedway and Campbell

1 hour and 10 minutes

from Speedway and Campbell
Vehicle Access: Paved Roads/Passenger Car (Mountain Road - be careful of weather conditions!)
Driving Directions
Google Maps Directions from the Speedway and Campbell intersection in Tucson to Box Camp Trailhead.
Quick version:
Drive East on Speedway (5.0 miles)
Left on Wilmot and continue on Tanque Verde (4.3 miles)
Left on Catalina Highway (26 miles)
Signs for the trailhead will help you find this trailhead on the down-mountain side of the Highway.
Trail Notes
It is very important to note that (while marked as a trail on currently available printed maps) this should be considered an off-trail adventure – perhaps more strenuous/slow/prickly than you might guess…
The mileages and elevations below are approximate (don't expect the values below to match your GPS exactly).
0.0 miles, 8000′: Park at the Box Camp Trailhead. [Waypoint BC TH]
1.1 miles, 7850′: The trail begins to run along a drainage – the trail follows the drainage down several small drops and along several great shaded flat/shaded areas. [Waypoint BC01]
1.8 miles, 7500′: The Box Spring Trail leaves to the right at an unsigned junction [Waypoint J BS BS]. Years ago this junction was marked with a sign – but the sign has been removed. There may be a cairn here but you might have to look carefully for this junction…
The Box Spring Trail is quite overgrown and there are a number of downed trees – with care you can still find the trail but it is slowly disappearing.
2.0 miles, 7400′: The trail reaches a small saddle [Waypoint BS01]- while the trail is still quite easy to follow immediately below the saddle it quickly becomes overgrown with frequent sections of steep loose dirt. (While the thought of the water in Sabino Canyon is more attractive in the warmer months this hike might best be done in pants/long sleeve weather).
2.1 miles, 7150′: The trail drops into a small drainage [Waypoint BS02] – the bottom of this drainage was not the original trail, but at this point is likely the best option for continuing down to Sabino Canyon – BE CAREFUL, this drainage has quite a bit of loose rock and debris!!
As you follow the drainage you will likely find a line of cairns down the drainage. Travel along the drainage is slow (plenty of fallen trees, brushy areas and debris)… Watch out for Poison Ivy.
The drainage becomes more open/clean as you get closer to Sabino Canyon and eventually move out of the area burned in the 2003 Aspen Fire.
2.6, 6700′: Sabino Canyon! [Waypoint BS03]
Sabino Canyon is fun to (carefully!) explore in either direction – but don't miss the box and big pools 5-10 minutes downstream!
The easiest exit is to reverse your route to the Box Camp Trailhead – but a rather rugged/strenuous loop can be made by working up Sabino Canyon (certainly more difficult – see 2009 August Upper Sabino Canyon (includes a map) and/or The Santa Catalina Mountains, A Guide to the Trails and Routes for some ideas).
Maps
NOTE: The maps below show the Box Spring Trail as a 'Trail' – NOT ACCURATE, this is currently best described as an off-trail adventure.
Pictures
2014 May Box Spring Trail
2012 June Box Spring Trail
2009 August Upper Sabino Canyon
2006 April Sabino Canyon
Update Notes
2017/8/15 – HikeLemmon posts added to resources
2017/7/31 – Img Srcset update, small layout update, correct caption location label
2014/5/15 – New pictures, improved gpx and description
2014/3/1 – Updated format, added driving directions, added pictures, moved to WordPress