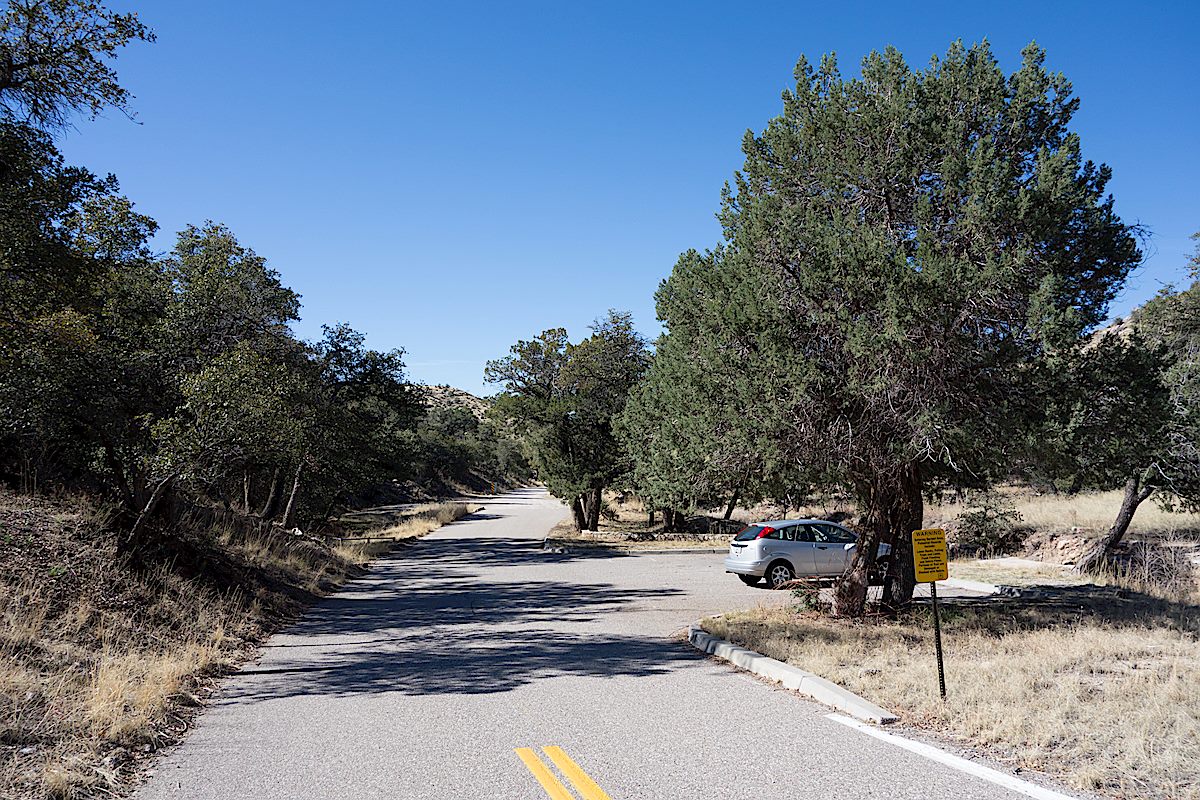 Overview
Driving Time and Distance
45 Minutes

from Speedway and Campbell

21.3 miles

from Speedway and Campbell
Miles up Highway:

7.3 miles

Side of the Highway:

Up-mountain

Vehicle Access:

Most of the drive is Paved Roads/Passenger Car (Mountain Road - be careful of weather conditions!) - the drive to the end of the road parking area is on a dirt road that is generally in good condition and passenger car friendly.
Fees and Services
Fee:

No

Restrooms:

Yes (May be closed seasonally (in the summer))

Water:

No
Additional Notes
This area is often referred to as 'Prison Camp' by locals.
The earliest name that I have seen for this area is Vail Corral or Vail's Corral after Zack Vail who ran cattle in the area. That name can be seen in the image below from the 1904 USGS Tucson Quadrangle: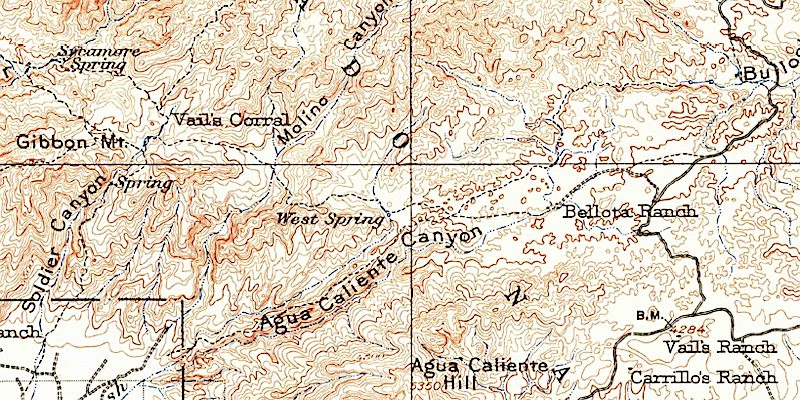 This area was the site of a Prison Camp beginning in 1939 (providing labor to build the General Hitchcock Highway) – some links about the human history of the area:
Wikipedia – Gordon Hirabayashi
Confinement and Ethnicity: An Overview of World War II Japanese American Relocation Sites by J. Burton, M. Farrell, F. Lord, and R. Lord – a great resource including a map of the area and pictures.
Green Valley Recreation Hiking Club – Summary of Several Newspaper Articles about the Area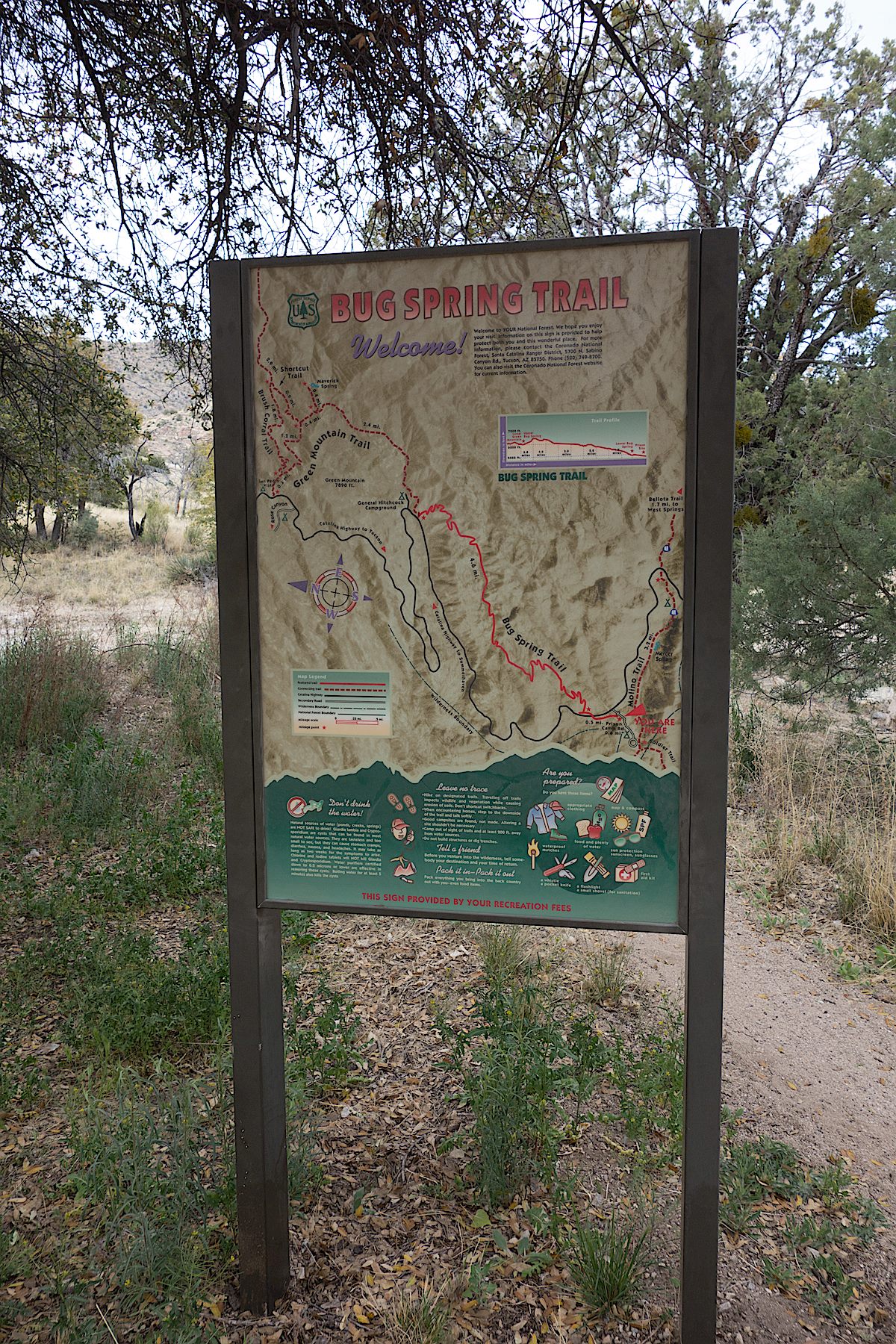 Driving Directions
Google Maps Directions from the Speedway and Campbell intersection in Tucson to Gordon Hirabayashi Recreation Site.
Quick version:
Drive East on Speedway (5.0 miles)
Left on Wilmot and continue on Tanque Verde (4.3 miles)
Left on Catalina Highway (11.8 miles)
Signs mark the turn into the Gordon Hirabayashi Recreation Site on the down-mountain side of the Highway.
If the gate is closed: park in the paved upper parking or one of the dirt pullouts and walk to the parking area at the end of the dirt road (this will add to the total mileage of your hike). If the gate is open: drive the 0.3 miles to the parking area at the end of the dirt road. Restrooms are located just before the parking circle at the end of the road (the restrooms may be closed seasonally) – no water is available.
Resources
All Trailheads - Map
Agua Caliente Hill South Trailhead
American Flag Trailhead
Avenida de Suzenu Trailhead
Babad Do'ag Observation Site and Trailhead Parking
Bear Canyon Trailhead
Bigelow Trailhead
Box Camp Trailhead
Bug Spring Trailhead
Catalina State Park Trailhead
Charouleau Gap Trailhead
Davis Spring Trailhead
Golder Ranch Road Parking Area
Gordon Hirabayashi Recreation Site End of the Road Parking Circle
Gordon Hirabayashi Recreation Site Upper Parking Area
Hairpin Turn
Incinerator Ridge Parking Area
Iris Dewhirst Pima Canyon Trailhead
Italian Spring Trailhead
Linda Vista Trailhead
Lizard Rock Parking Pullout
Lower Green Mountain Trailhead
Lower Oracle Ridge Trailhead
Marshall Gulch Trailhead
Milepost 0
Mint Spring Trailhead
Molino Basin Parking Area
Mount Bigelow Butterfly Trailhead
Mount Lemmon Recreation Area
Oracle Ridge Trailhead
Palisade Trailhead
Red Ridge Trailhead
Redington Pass Backcountry Touring Area
Richard McKee Finger Rock Trailhead
Ridgeline Parking Pullout
Sabino Canyon Visitor Center
San Pedro Vista
Soldier Trail Trailhead
Summit Trailheads
Sunset Trailhead
The Lake Trailhead
Update Notes
2017/8/5 – Img Srcset update, Fixed broken links, added all trailheads map