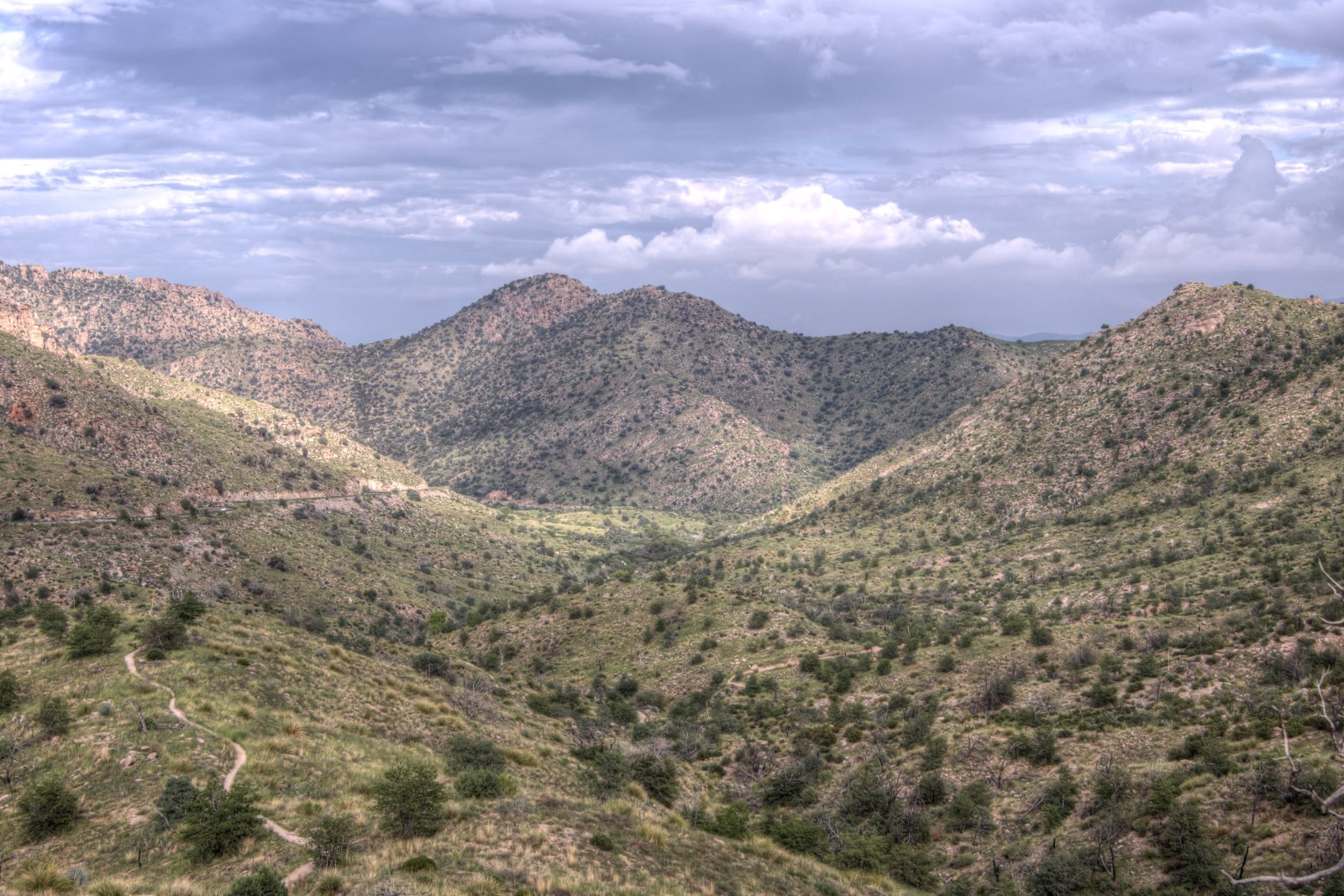 Looking down towards Molino Basin from the Molino Basin Trail. August 2013.
Overview
The Molino Basin Trail #11 may be most popular as a link – part of the Arizona Trail, part of a number of popular Mountain Bike rides and part of a popular day hike to Sycamore Reservoir Trail. With a large part of the trail in view of the highway it was years of hiking in the Santa Catalina Mountains before I hiked all of this trail… While there are more rugged/remote/scenic trails this is a fun day hike, the miles near Molino Basin are quite fun and Shreve Saddle is always nice to visit.
Hike Stats
Hike Type:

Out and Back

Hiking Distance:

7.2 miles

Elevation Gain:

1,250'

Elevation Loss:

1,250'

Highest Elevation:

5,000'

Lowest Elevation:

4,300'
Location
Drive
Driving Distance from Speedway Campbell:

19.5 miles

Driving Time from Speedway Campbell:

40 Minutes

Vehicle Access: Paved Roads/Passenger Car (Mountain Road - be careful of weather conditions!)
Details
Fee: Yes (No fee for some uses - there are a limited number of free parking spaces for the hikers using the Arizona Trail (Molino Basin Trail and Bellota Trail))
Dogs:

Yes

Bikes:

Yes
Other Notes
Driving Directions
Google Maps Directions from the Speedway and Campbell intersection in Tucson to Molino Basin Parking Area.
Quick version:
Drive East on Speedway (5.0 miles)
Left on Wilmot and continue on Tanque Verde (4.3 miles)
Left on Catalina Highway (10.1 miles)
Signs will help you find the turn into this trailhead and campground. This area is a fee area ($5 or Interagency Pass - Coronado National Forest Fee Information) - but there are a number of clearly signed free parking spaces for Arizona Trail users.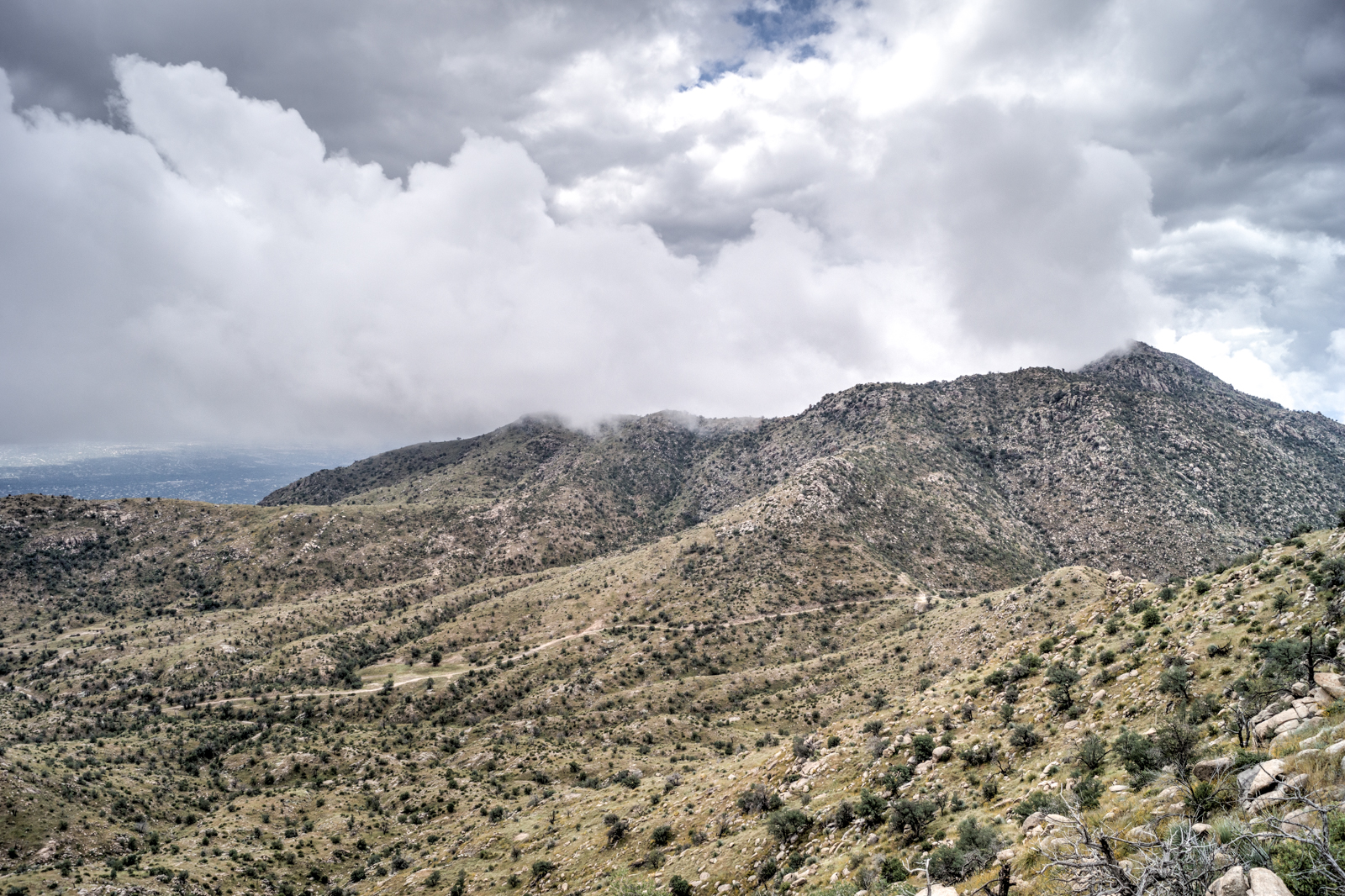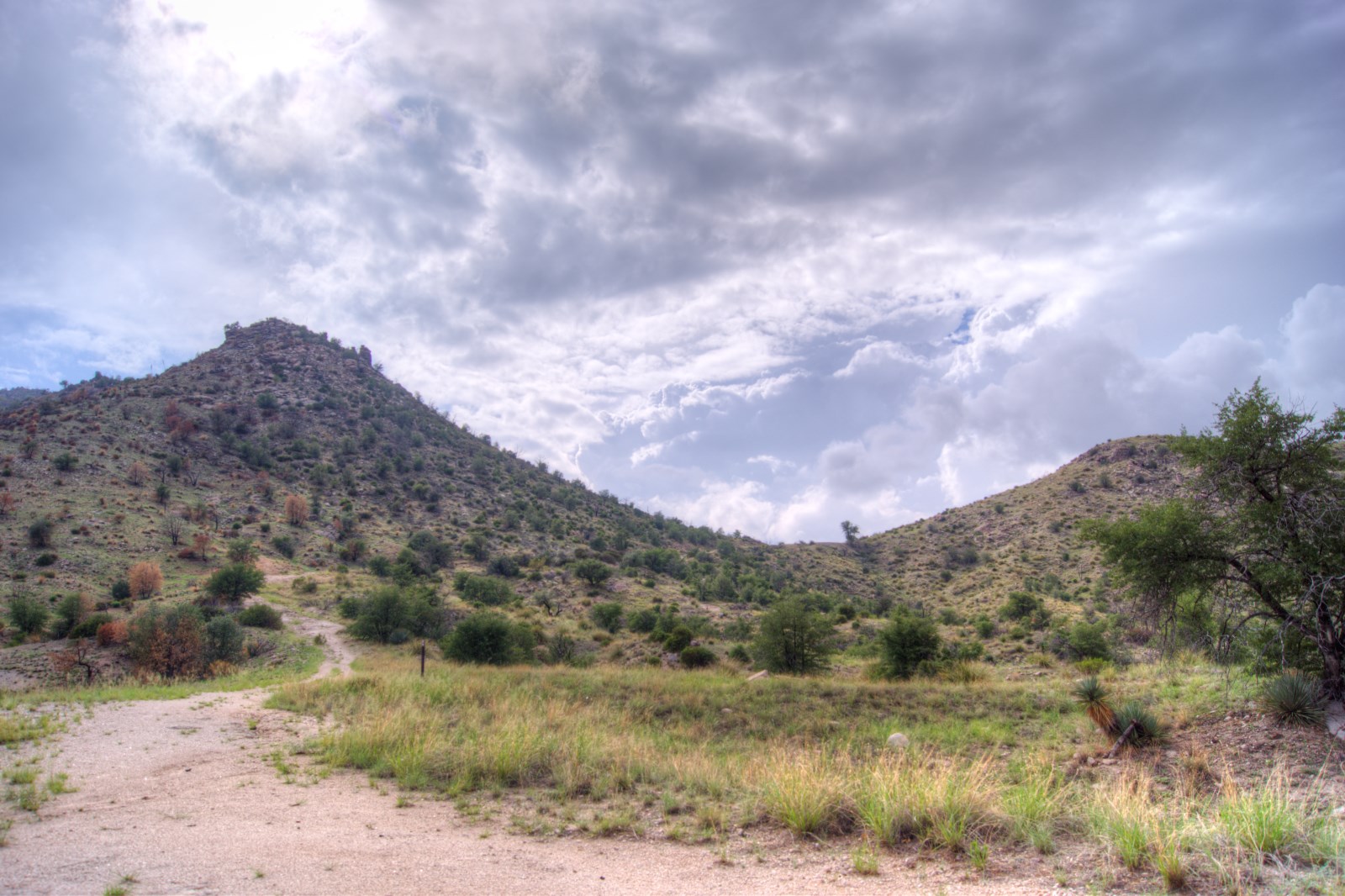 Left: Storm over the Molino Basin Trail and Shreve Saddle. October 2014.
Right: Looking up towards Shreve Saddle. August 2013.
Trail Notes
The mileages and elevations below are approximate (don't expect the values below to match your GPS exactly).
0.0 miles, 4350′: Park in the Molino Basin Parking Area 5.6 miles up the General Hitchcock Highway [Waypoint THMB].
The trail starts in the Northwest corner of the parking lot – it quickly crosses the (paved) road [Waypoint MB01] and passes several side trails [Waypoints MB02 and MB03]. Pay careful attention as the trail winds thru/near the campground – there are a number of side trails to campground areas, if you walk 'thru' a campsite you have probably lost the trail…
0.4 miles, 4300′: Cross a wash/road [Waypoint MB04]
1.0 miles, 4450′: Signed junction with a trail down to the Molino Basin Campground [Waypoint J MB MBCG] – at 1.1 miles pass an unsigned junction down to the campground [Waypoint MB05]
The trail climbs to a hillside just above the Gordon Hirabayashi Recreation Site.
2.2 miles, 4850′: Signed junction with a trail that connects to the Gordon Hirabayashi Recreation Site [Waypoint MB-BSC] (this trail starts at campsite at an old set of stairs just under a set of solar panels [Waypoint GHRS to MB]). After you pass this junction there are a number of other unofficial side trails down to the Gordon Hirabayashi Recreation Site campgrounds [in the area of Waypoint MB06].
2.5 miles, 4850′: Pass the large Molino Basin Trail – Soldier Trail sign near the end-of-the-road parking area [Waypoint MB07].
2.7 miles, 4800′: The signed junction with Soldier Trail [Waypoint SO-MB] – continue across the wash, the trail parallels the wash and then follows the sandy bottom and small shortcut trails.
3.2 miles, 4850′: Leave the wash and head uphill towards Shreve Saddle [Waypoint MB08]
3.6 miles, 5000′: The Molino Basin Trail ends at Shreve Saddle and the trail continues into the Pusch Ridge Wilderness as the Sycamore Reservoir Trail [Waypoint SR01].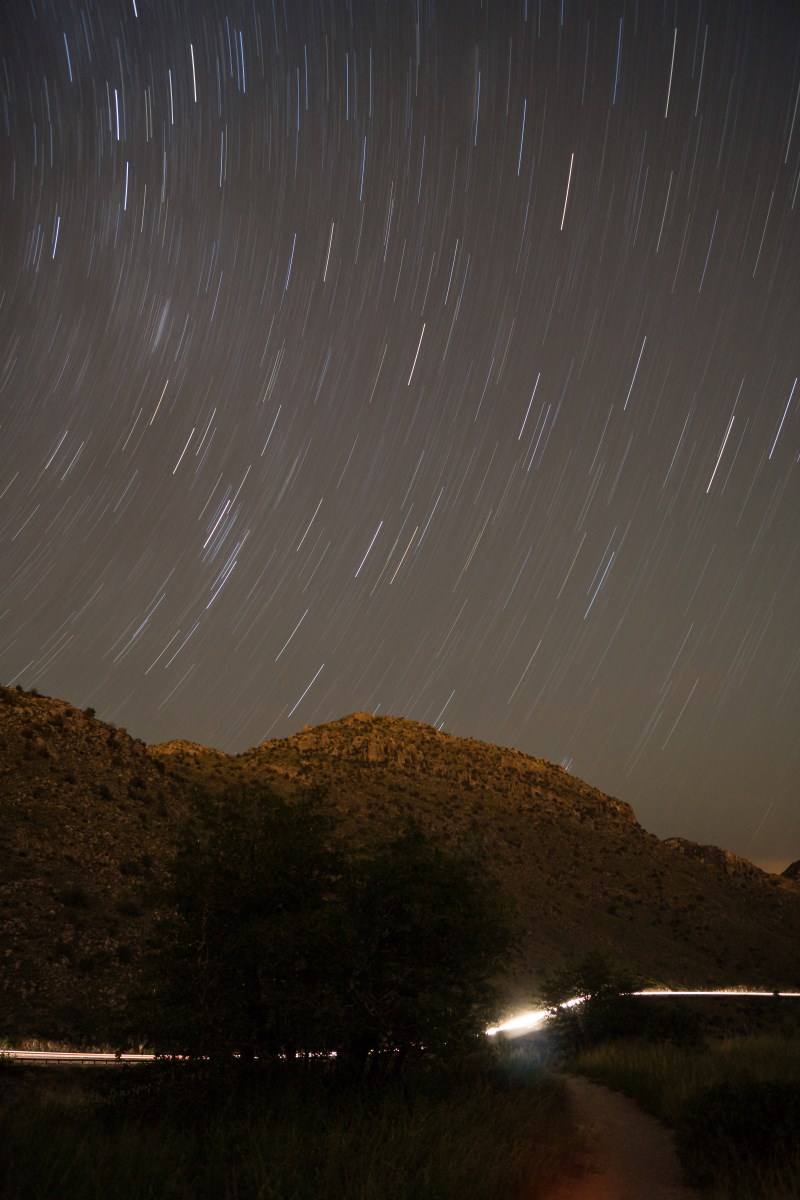 Stars and the highway from the Molino Basin Trail below Prison Camp. August 2013.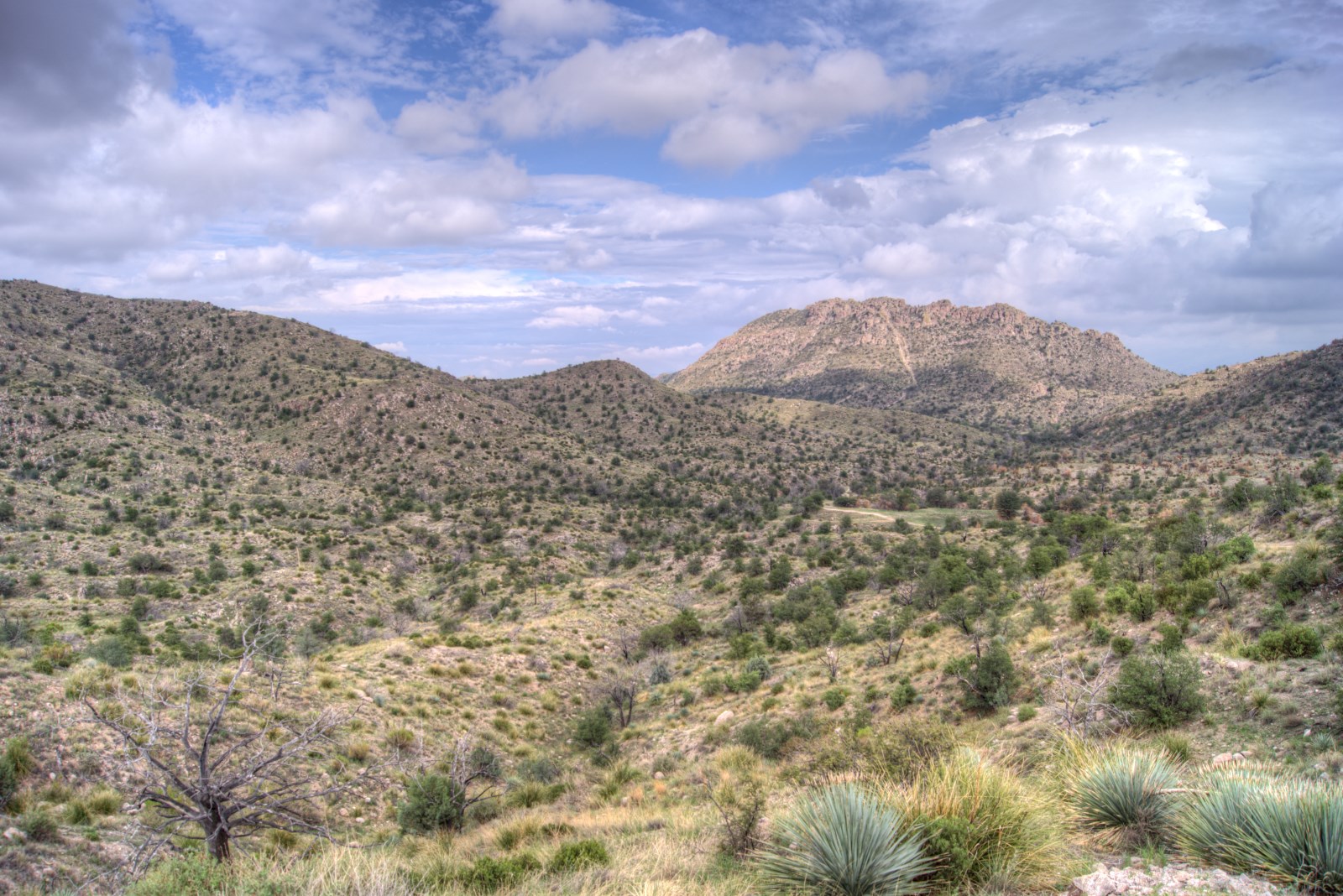 Looking towards Prison Camp from Shreve Saddle. August 2013.
Pictures
2013 August Molino Basin Trail
Update Notes
2017/8/15 – Add posts from HikeLemmon
2014/10/24 – New picture, small layout change
2014/9/23 – Updated GPX file with slightly cleaned up track and waypoint names
2014/7/18 – Format update
2014/4/2 – Added new GPX file with waypoints and updated hiking notes
2014/3/2 – Move to WordPress, add elevation profile, Driving Directions, new format