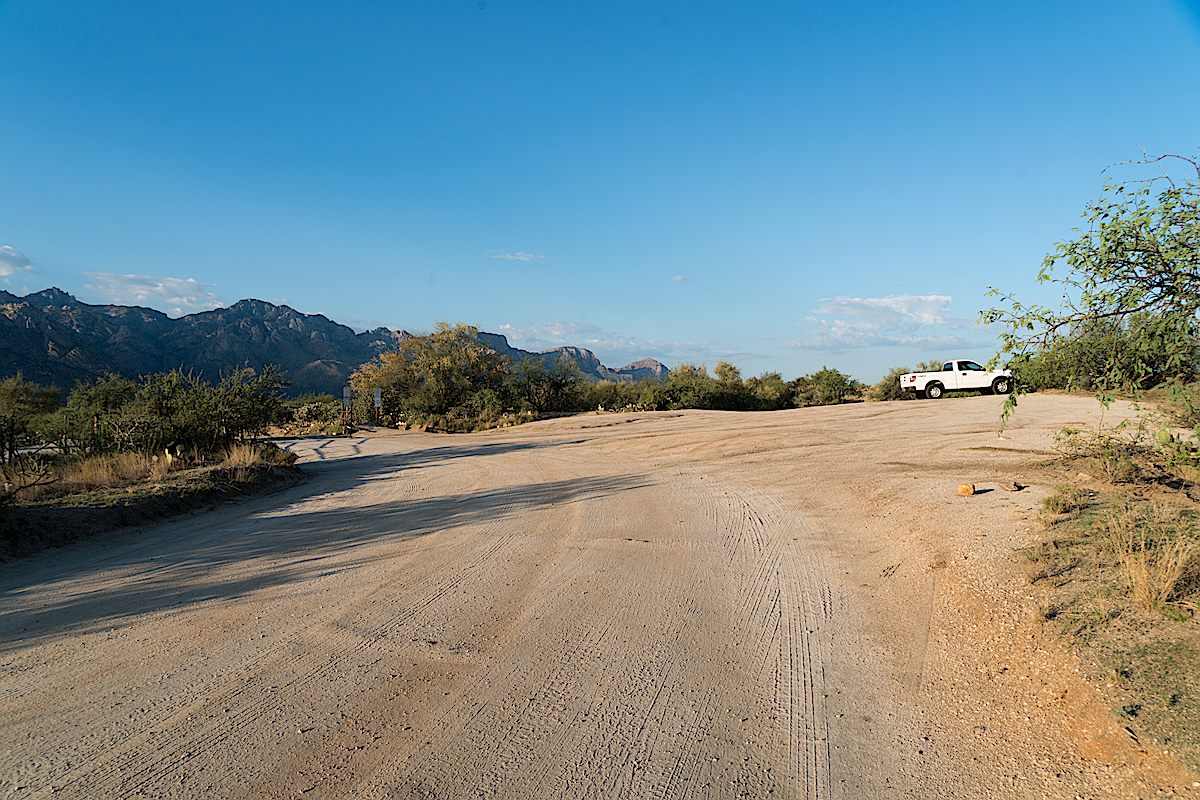 Overview
Driving Time and Distance
40 Minutes

from Speedway and Campbell

21.3 miles

from Speedway and Campbell
Vehicle Access:

Passenger Car/Paved Roads/Short Section of Passenger Car Friendly Dirt Road - take care pulling into the parking area, the entrance to the parking area is sometimes in rough condition.
Fees and Services
Fee:

No (There is no fee required at the parking area but the surrounding land is State Trust Land where a permit is required.)

Restrooms:

No

Water:

No
Additional Notes
The directions/mileage given here are for the largest/most popular/easiest to reach Golder Ranch area parking - there are other parking areas along the dirt roads in the area, some of which require high-clearance/4wd vehicles to reach.
Driving Directions
Google Maps Directions from the Speedway and Campbell intersection in Tucson to Golder Ranch Parking Area.
Quick version:
North on Campbell (3.5 miles)
Left on River Road (2.2 miles)
Right on Oracle/AZ-77 (13.7 miles)
Right on East Golder Ranch Road (1.9 miles)
Just before the parking area the pavement ends and the road bends to the right, the unsigned parking area is a large dirt area on the right (the parking area is before the cattle guard).
Resources
With the dirt roads in the area there are a number of other parking possibilities in the area – be careful if 'exploring' in this area, the land ownership in the area is a mix of private, state and federal land. There are two notable parking areas – one to the north, one to the south, that are best accessed with a high clearance vehicle – road conditions vary quite a bit and may be quite a bit rougher than you would expect so close to homes and major roads, take care!
North: Instead of pulling into the main parking area turn left to take E Equestrain Trail northeast to a junction with FR642 (Baby Jesus Ridge Road) at a corral. At the junction take a right – because this area is used as a parking area you may have to look carefully to find where FR642 leaves the corral area – from here proceed as far as you feel comfortable – there is a good access point near the forest border.
South: Instead of pulling into the main parking area stay right, across a cattle guard, to continue south on Golder Ranch Road. At a Y junction turn right onto FR 648 (Cargodera Canyon Road) and take that to the a large sandy parking area at the Forest Boundary – this is also the boundary of Santa Catalina State Park (Fee Area).

All Trailheads - Map
Agua Caliente Hill South Trailhead
American Flag Trailhead
Avenida de Suzenu Trailhead
Babad Do'ag Observation Site and Trailhead Parking
Bear Canyon Trailhead
Bigelow Trailhead
Box Camp Trailhead
Bug Spring Trailhead
Catalina State Park Trailhead
Charouleau Gap Trailhead
Davis Spring Trailhead
Golder Ranch Road Parking Area
Gordon Hirabayashi Recreation Site End of the Road Parking Circle
Gordon Hirabayashi Recreation Site Upper Parking Area
Hairpin Turn
Incinerator Ridge Parking Area
Iris Dewhirst Pima Canyon Trailhead
Italian Spring Trailhead
Linda Vista Trailhead
Lizard Rock Parking Pullout
Lower Green Mountain Trailhead
Lower Oracle Ridge Trailhead
Marshall Gulch Trailhead
Milepost 0
Mint Spring Trailhead
Molino Basin Parking Area
Mount Bigelow Butterfly Trailhead
Mount Lemmon Recreation Area
Oracle Ridge Trailhead
Palisade Trailhead
Red Ridge Trailhead
Redington Pass Backcountry Touring Area
Richard McKee Finger Rock Trailhead
Ridgeline Parking Pullout
Sabino Canyon Visitor Center
San Pedro Vista
Soldier Trail Trailhead
Summit Trailheads
Sunset Trailhead
The Lake Trailhead
Update Notes
2017/8/5 – Img Srcset update, added information about the North/South parking areas