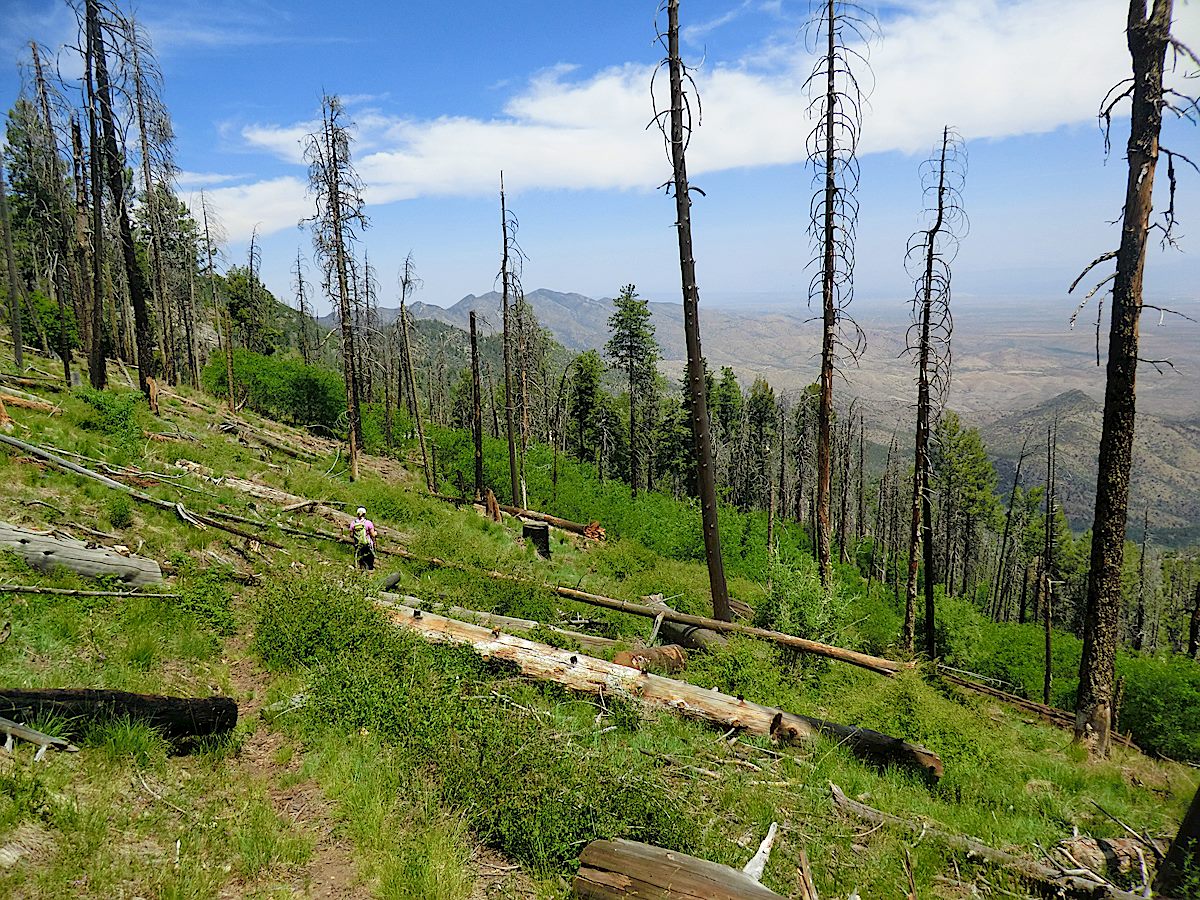 Overview
The Knagge Trail #18 takes you by the remains of the Knagge cabin and a nearby mine that they worked in the early 20th century – the old cabin site is an amazing place to sit and contemplate what life must have been like here in the 1920s! Even without the historical sites along the trail this would still be an attractive hike with great terrain and beautiful views as it drops down the 'backside' of the Santa Catalina Mountains. Before fires burned thru this area this trail worked it's way down to South Edgar Canyon and over to Peck Basin, but – at least as far as I can tell – fire/time/nature have erased the lower section of this trail and any attempt to reach Peck Basin will be an off-trail adventure!
Hike Stats
Out and Back

3.9 miles

2,200'

Elevation Gain

2,200'

Elevation Loss
Highest Elevation:

8,100'

Lowest Elevation:

6,600'
Details
Fee:

No

Dogs:

Yes

Bikes:

Yes (With currently poor condition of the trail and no connection to other trails I would not recommend this as a ride.)
Drive
0 Minutes

from Speedway and Campbell
Vehicle Access:
Driving Directions
Driving Directions from the Speedway and Campbell intersection in Tucson - Kellogg Trailhead:
Drive East on Speedway (5.0 miles)
Left on Wilmot and continue on Tanque Verde (4.3 miles)
Left on Catalina Highway (23.7 miles)
Right on Incinerator Ridge Road (0.4 miles) - in winter (December 15 to March 1 depending on the weather) this road is gated and closed to vehicle traffic (it remains open to travel on foot) - there might be room to park near the gate without blocking it, but it may be easier to use the parking pullouts just up the highway.
The trail parking is located at the end of the road. The condition of Incinerator Ridge Road varies - while passenger cars (low clearance cars not recommended) often make it up the road it can be quite rough and a vehicle with a more clearance is recommended.