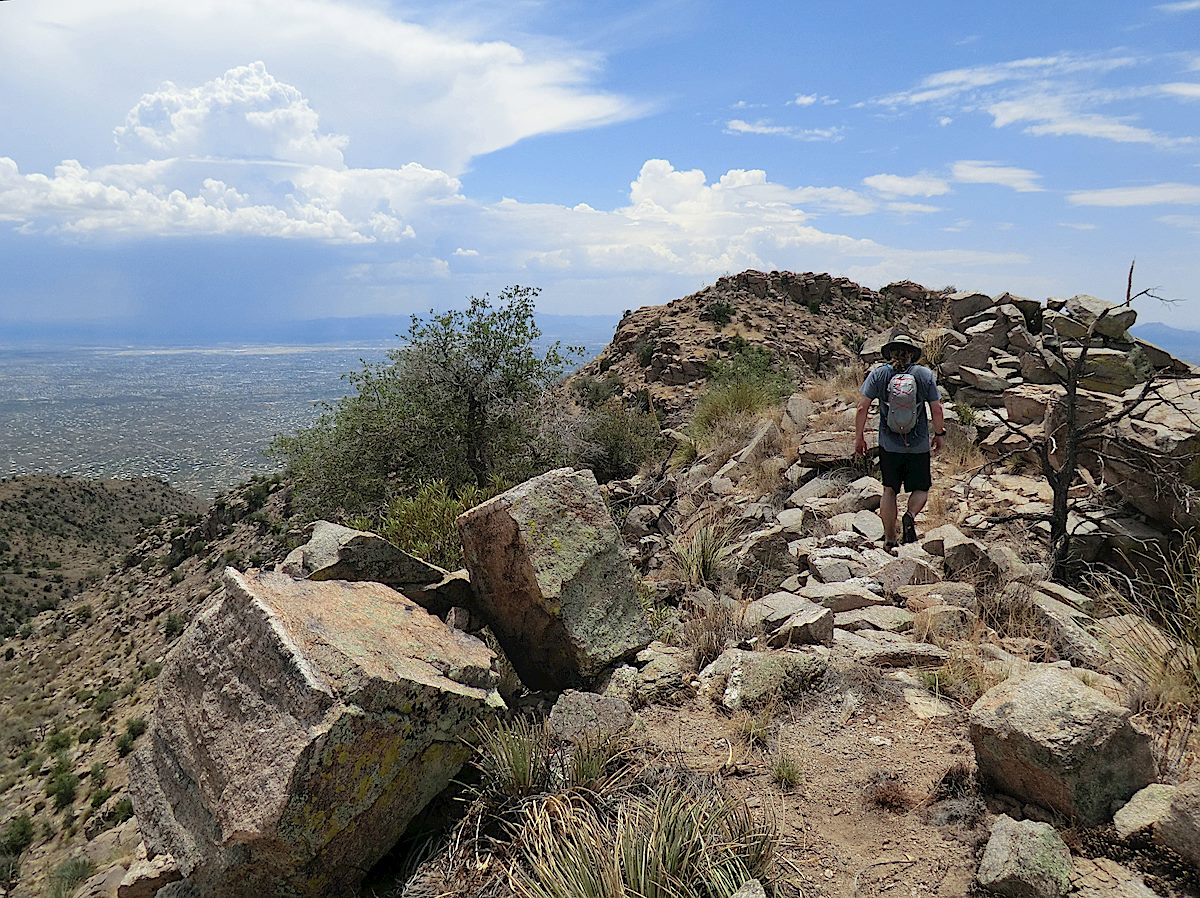 Overview
Over the years I have only occasionally heard anyone mention Gibbon Mountain – so I was surprised when I looked it up in The Santa Catalina Mountains, A Guide to the Trails and Routes and found three different routes to the top!?! But after visiting Gibbon Mountain I am less surprised – while perhaps not currently a popular destination (and lacking any official trail) the ridges in the area are enjoyable hiking and views from this highpoint – especially from the southern end of the mountain – are gorgeous!
Hike Stats
Out and Back

5.6 miles

1,800'

Elevation Gain

1,800'

Elevation Loss
Highest Elevation:

5,800'

Lowest Elevation:

4,700'
Details
Fee:

No

Dogs:

Yes

Bikes: No (Pusch Ridge Wilderness)
Off-trail hiking in the Santa Catalina Mountains can be hazardous and challenging - make sure you understand the skills you need to stay safe, be cautious and know your limits!
Drive
21.3 miles

from Speedway and Campbell

45 Minutes

from Speedway and Campbell
Vehicle Access: Most of the drive is Paved Roads/Passenger Car (Mountain Road - be careful of weather conditions!) - the drive to the end of the road parking area is on a dirt road that is generally in good condition and passenger car friendly.
Driving Directions
Driving Directions from the Speedway and Campbell intersection in Tucson - Gordon Hirabayashi Recreation Site:
Drive East on Speedway (5.0 miles)
Left on Wilmot and continue on Tanque Verde (4.3 miles)
Left on Catalina Highway (11.8 miles)
Signs mark the turn into the Gordon Hirabayashi Recreation Site on the down-mountain side of the Highway.
If the gate is closed: park in the paved upper parking or one of the dirt pullouts and walk to the parking area at the end of the dirt road (this will add to the total mileage of your hike). If the gate is open: drive the 0.3 miles to the parking area at the end of the dirt road. Restrooms are located just before the parking circle at the end of the road (the restrooms may be closed seasonally) – no water is available.