I have been past Gnat Tank a number of times and hadn't ever noticed any trails other than the Agua Caliente Canyon Trail in the area, but maps and aerial photography clearly show Forest Road 4446 breaking off from the Agua Caliente Canyon Trail at Gnat Tank…
This time, knowing the trail exists, I find it easily enough on the west side of the tank. Hardly a road at this point the faint trail works up the hill to a shallow saddle – recent horse tracks and cairns hidden in the grass help me find the way.
At the saddle I have to wander around and consult the GPS to get on the right track – after a few minutes the old road emerges from the grass, easy to follow as it rambles down the ridge.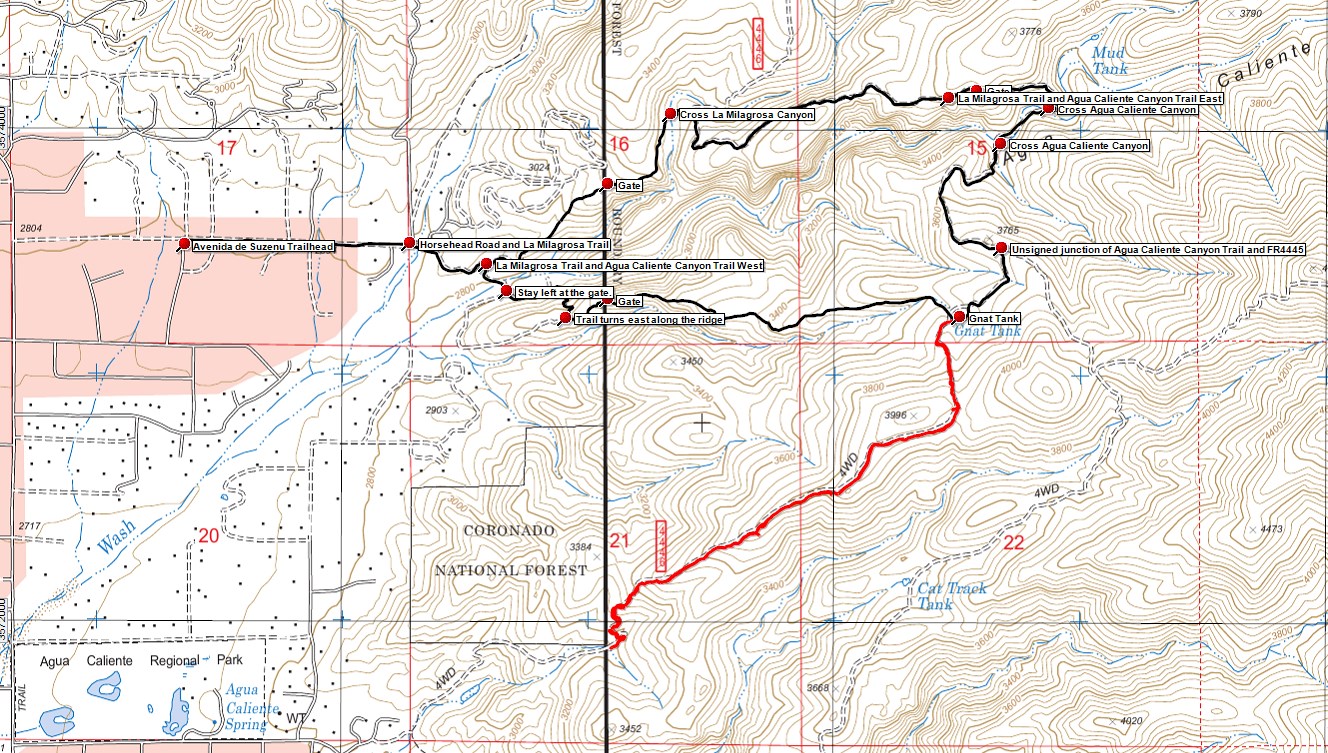 The views are great from the ridge – on one side La Milagrosa and Agua Caliente Canyons, on the other side views of the Agua Caliente Hill Trail, False Hope Hill above and Tucson below.
The trail descends towards the Roger Road – but at the moment there is no legal way to connect to Roger Road, private land blocks the way. The access issues in this area date back quite a few years – a quick search turns up this 1996 article – County takes first steps for access to trail, Tucson Citizen, Jennifer Katleman – and Roger Road access is listed in the project list of the 2012 Pima Regional Trail System Master Plan (p. 194). The Pima County Natural Resources, Parks and Recreation Department confirmed that while there is no current anticipated completion date they are looking for opportunities to complete this project. (This is a good opportunity to mention the Pima Trails Association, the current tag line on their website is "Protecting and preserving Pima County trails since 1987" – an important organization to support if you are concerned about trail access in Pima County!)
Avenida de Suzenu Trailhead, Gnat Tank, Private Land Boundary – out and back – 8 miles, 2000′ of elevation gain and loss.