If you have not visited the Summit Trailhead recently be aware that there is now a $5 fee to park in the lot (the fee is covered by  a number of Interagency Annual Passes – see the signs below for more details) – along with the new fee tube the parking area has new gravel, the start of the trails has been cleared and I believe there is one more picnic bench. Note that the large open parking area just down the road from the Summit Trailhead does not have any fee signs and the trail to/from this area from the Summit Trailhead has been widened and signed.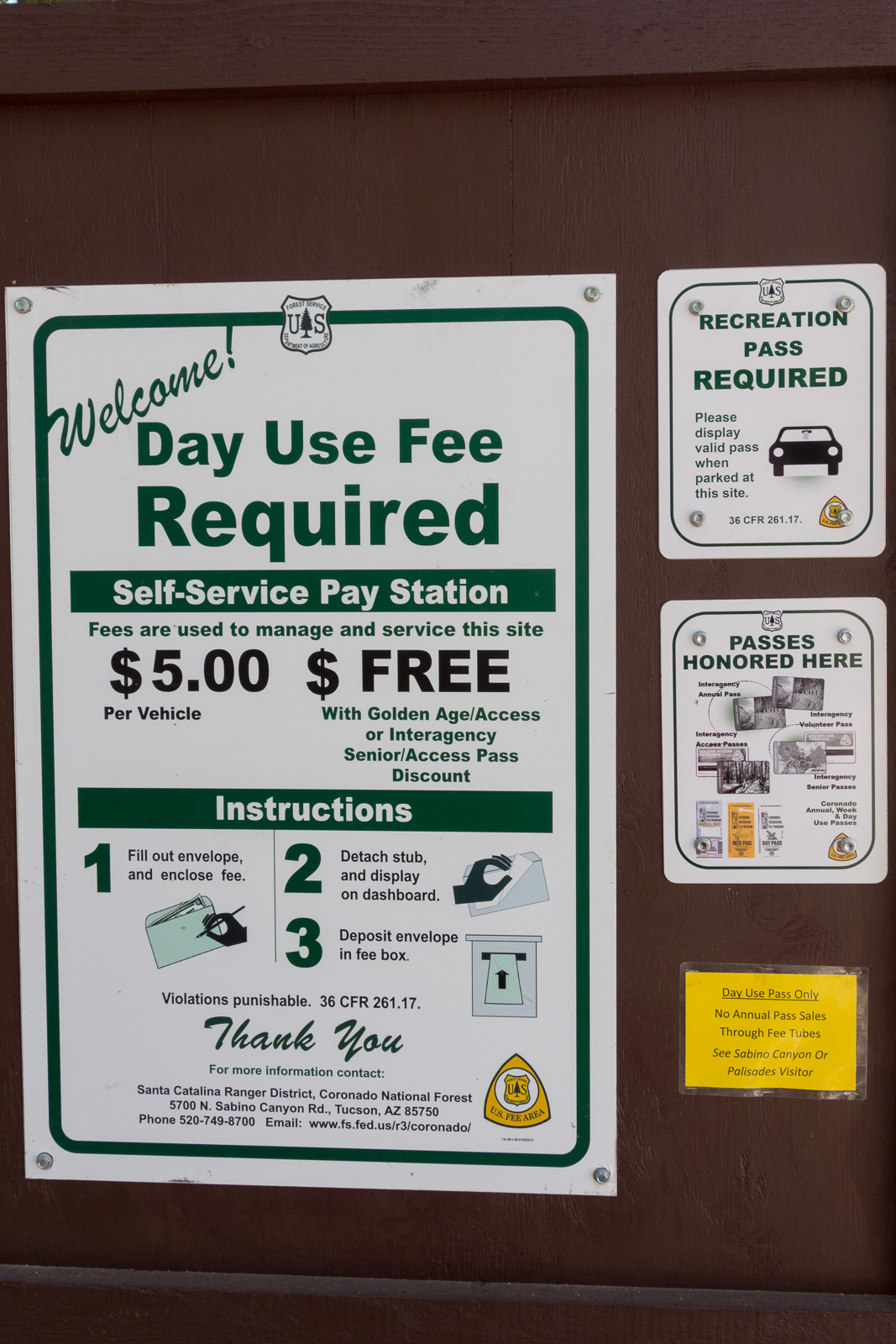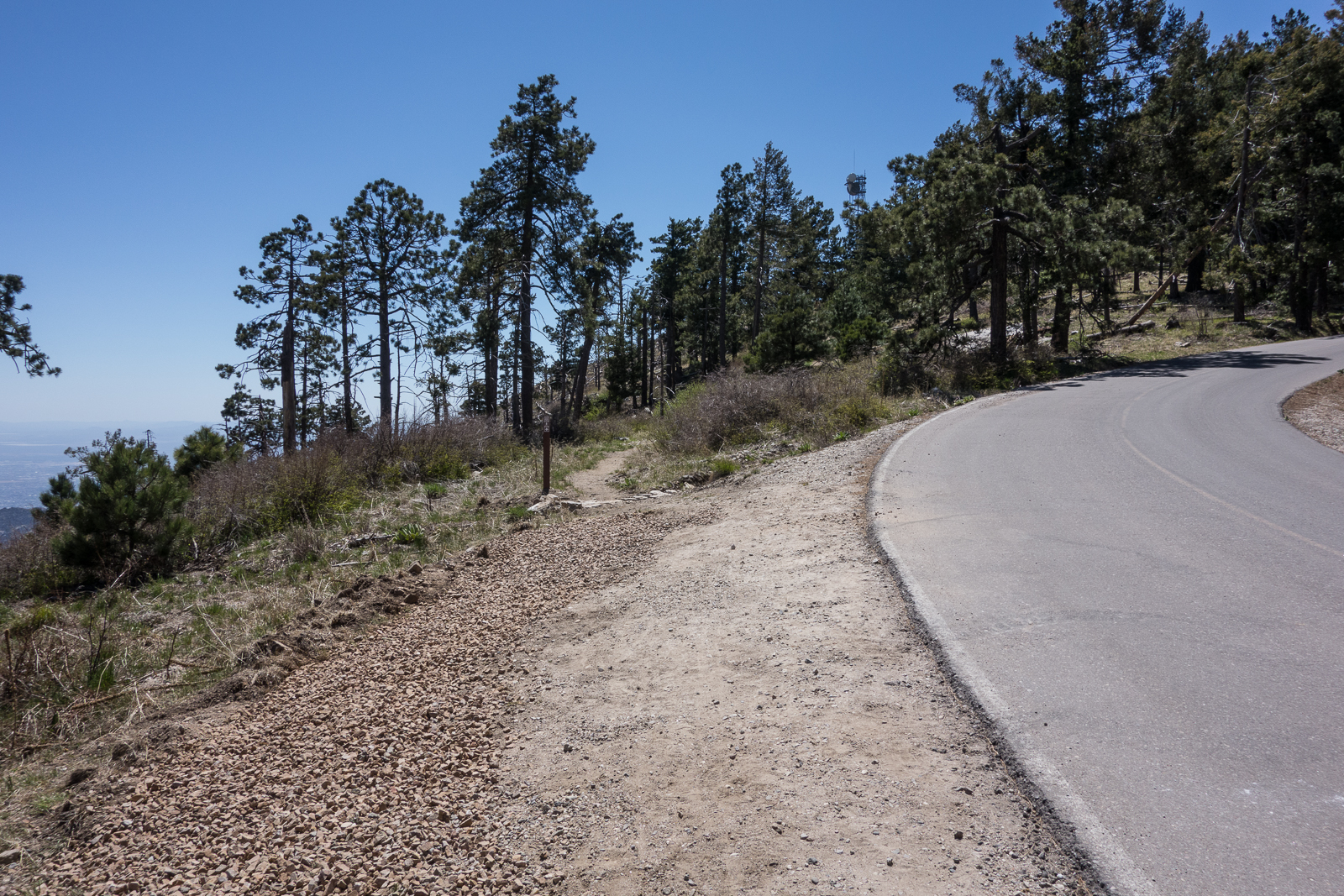 Bill Would Roll Back Public Lands Protections In The Name Of National Security – ThinkProgress.org – Claire Moser: There have been a number of articles about the Arizona Borderland Protection and Preservation Act and the impacts that it could have on federal land in Arizona. While security is important it is disappointing to see a bill that has such a complete override of other concerns in favor of security rather than encouraging/facilitating cooperation between Federal Agencies. Sierra Club Condemns Border Security Bill That Seeks To Gut Protected Lands – ThinkProgress.org, John McCain Says Laws Protecting National Parks and Monuments Threaten National Security – AllGov.com.
Repaving work in Sabino Canyon Recreation Area May 19 and 20 – Sierra Vista Herald: "Recreation area and parking lot remain open, access reduced to one lane during paving"
Dogs welcomed on some — but not all — trails – Arizona Daily Star: A nice recap of a number of the local rules regarding dogs, including the trails in Sabino Canyon and in the Bighorn Sheep Management Area where dogs are prohibited.
It is fire season again… Links to articles on a small brush fire on the west side and a prescribed burn in the Redington Pass area. Catalina State Park brush fire under control after multi-agency response – Tucson Local Media, Brush fire contained at 20-acres north of Tucson – Arizona Daily Star, Forest Managers Light Fires Now to Prevent Big Blazes Later – Arizona Public Media, UPDATE: Prescribed Redington Pass burn – Tucson News Now, Prescribed burn planned for next week – Tucson News Now.
Some campers head to Mount Lemmon despite forecast – KVOA.com: A fun article on people who are braving the weather to camp on the mountain – great to see people getting out. Clouds, rain and snow can be so beautiful!
Mt. Lemmon Ride Promises Physical Reward – and Pie – Arizona Public Media: An article about the GABA Hill Climb that took place on May 15th – this is a yearly event by the Greater Arizona Bicycling Association that provides SAG stops, mechanical assistance, pie in Summerhaven and transport down if needed!
Mary Reynolds: 1887 quake taught hydrologic lessons – Arizona Daily Star: An interesting article about an earthquake in 1887 that was centered in Mexico and felt in Tucson – "When the quake struck the old Santa Catalina Mountains, great slices of the mountain gave way, and went tumbling down into the canyons, huge clouds of dust or smoke ascended into the blue sky, high above the crest of the queenly mountain".
A Shudder Through the Earth: Learning From Nepal – UANews: Mentions that the recent earthquake in Nepal was large enough to register at the seismic station in Tucson on an instrument "locked in a vault deep in the granite of the Santa Catalina Mountains".