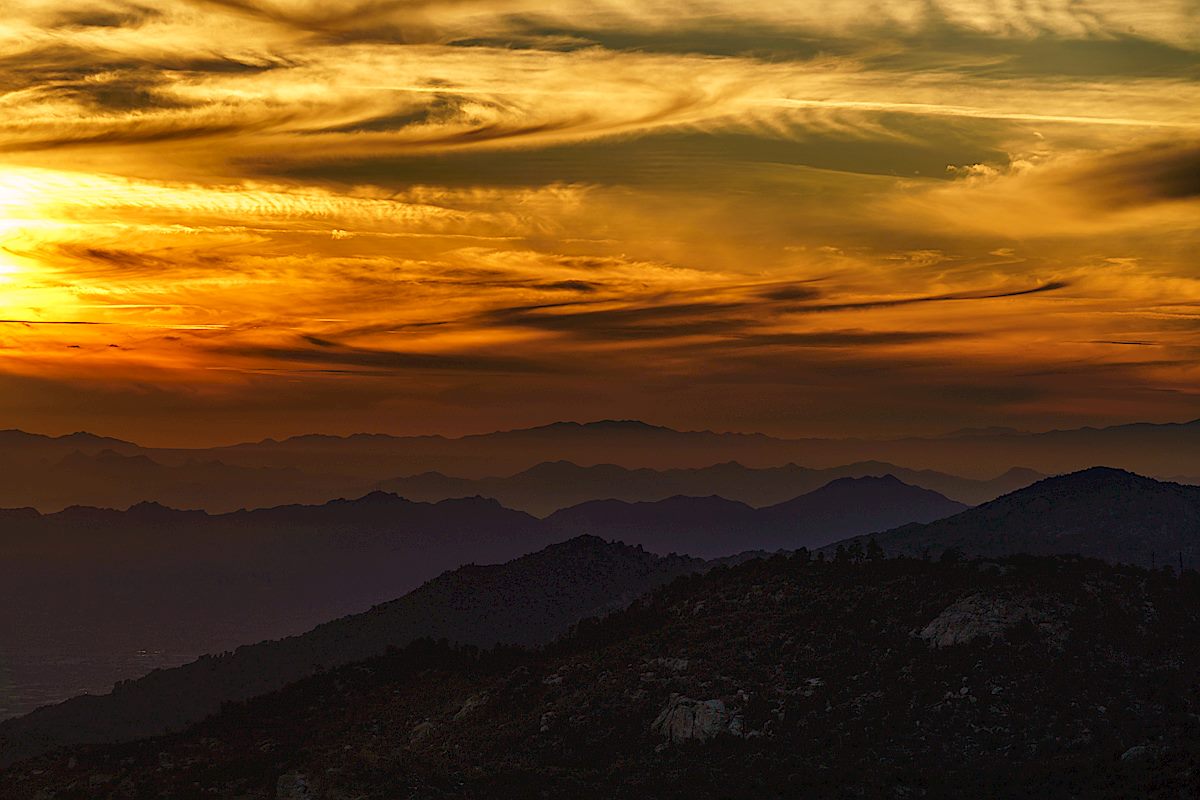 Coronado National Forest Fee Proposal – Coronado National Forest: News articles about and the press release for the Fee (Increase) Proposal were from a post here in November – the link leads to the official page for the project and is a good starting spot if you are interested in submitting a comment about the proposal (comments due by May 1, 2018). I think that the list of 'New Fee Sites' is worth reading thru and considering – included from the Santa Catalina Mountains are the Bigelow Trailhead, Butterfly Trailhead and Windy Point Vista Day Use Area.
Improvements at Marshall Gulch Picnic Area and Trailhead – Coronado National Forest: If this topic, or the illustration below, seem familiar it is because the first comments on this plan were taken in 2010… The long running process to redesign the Marshall Gulch Trailhead appears to be in the final stages and on 10/27/2017 the Draft Environmental Assessment was published. If this plan goes forward it will not increase the number of parking spaces available but will attempt to restore the convergence of Marshall Gulch and Sabino Creek and make the area easier to navigate on busy days. An interesting note on visitation from the EA:
On average, the site receives over 65,000 cars each summer (May through September), which includes those just driving through and others who stop to use the facilities (Forest Service, unpublished data, 2010). Assuming that there are an average of 2.5 visitors per car, estimated use is 162,500 visitors. This does not include walkin use from Summerhaven and walk-in use during the winter when the gate is closed.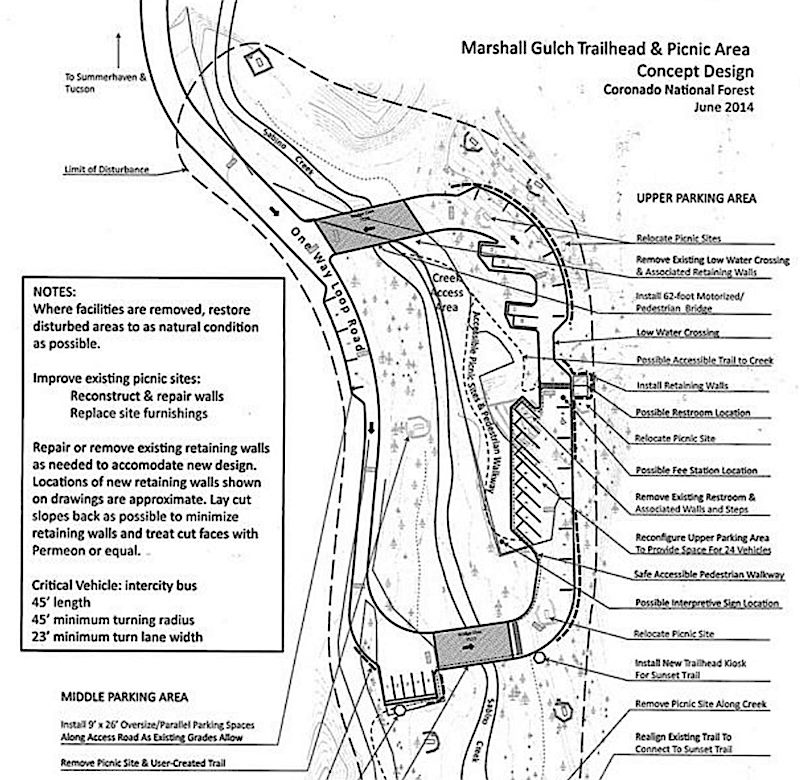 The Coronado National Forest is now taking applications to operate the Sabino Canyon Shuttle System. The Sabino Canyon Shuttle Prospectus page has the relevant documents – the documents contain quite a few details about the shuttle system including limits on and requirements for the number of trips the shuttle makes, required operating hours and details about the costs/revenue involved – among the details was this statement about visitation to Sabino Canyon:
Visitation by private vehicle totals approximately 520,000 people annually; it is estimated that the Sabino Canyon Recreation Area receives more than one million visitors per year (Feasibility Study, 2010). Actual visitation to the Sabino Canyon Recreation Area is difficult to quantify, as the public may visit at any time of day and may to arrive on foot, on horseback, or by bicycle, as well as by private vehicle.
Potential shuttle service operators tour Sabino Canyon – KVOA.com, Forest, Arizona Tour Company Says Feds Arbitrarily Disqualified Its Canyon Trams – Courthouse News Service.
Gates are closed on a number of roads for the winter – foot traffic is still allowed. Seasonal road closures on Mt. Lemmon – Coronado National Forest, Seasonal road closures on Mt. Lemmon – Tucson News Now
A bear – reported to be "very old, malnourished and ill" – was euthanized in northeast Tucson in December – 'Malnourished and ill' bear euthanized on northeast side – Tucson News Now, AZ Game and Fish report bear sightings in Bear Canyon, Tanque Verde Area – Tucson News Now, Bear Euthanized Near Sabino Canyon – Arizona Public Media, Bear spotted several times in foothills this week – KGUN9
Meet the Black Friday resisters – KGUN9: This article made me laugh a little – I assumed it would be about a serious protest but instead was about people getting outside and avoiding the Black Friday deal-shopping crowds! Of course, I highly recommend joining the movement…
The history behind the name of Arizona's Mount Lemmon – The Arizona Republic: An article about Sara Lemmon and the name Mount Lemmon.
Sunburst Petroglyph Vandalized in the Tohono O'odham Haki:dag – Intercontinental Cry: In early 2016 a sunburst petroglyph in Catalina State Park was vandalized – this article details some of the efforts to preserve the petroglyph.
Popular Sabino Creek is bone-dry after months with no rain – Arizona Daily Star: Sabino Canyon is on a dry streak as we head into 2018, no surprise given the weather… The USGS makes data from Sabino Canyon available online and there is discharge data available back to late 1987. The graph below show data from 1988 to the end of 2017, this presentation is far from perfect – high spikes are cut off, some very low numbers are essentially hidden and this is just the raw data with no filtering for data quality – but it is still interesting to quickly scan thru:

Endangered Gila Topminnow Returns to Santa Cruz – Arizona Public Media: One explanation offered for the prescence of the Topminnow in the Santa Cruz is that "they may have reached the Santa Cruz from Sabino Canyon via the Rillito River".
One way to celebrate the New Year: Take a hike – Arizona Daily Star: Again this year the Arizona State Parks promoted getting outside and taking a hike on New Years by offering guided hikes in parks around the state.
Suntran Sabino Canyon Sun Shuttle – Sun Tran: For the brief period of 12/26 to 1/1 there was shuttle service from Udall Park to Sabino Canyon – even with overflow parking available it can occasionally still be a challenge to find parking in Sabino Canyon and this service is a nice detail.
ASTEROID LATEST: NASA monitoring 'unseen' asteroid 2017 YZ4 set to skim Earth – Express.co.uk: An asteroid first observed from the Mount Lemmon Survey Observatory in the Santa Catalina Mountains!
Contador and Polartec-Kometa tackle Mt. Lemmon – Cyclingnews.com: A short article about the Polartec-Kometa Continental team and Alberto Contador riding up the Santa Catalina Mountains.
Weather! Even by Tucson standards this winter has been quite warm – we did get one winter storm that generated snow on the mountain…
Hikes and Events:
Rescues/Accidents/Incidents including information from SARCI's SARNews:
12/11/2017 La Milagrosa Trail: Not a rescue but an interesting report because it was a false alert due to an accidental emergency beacon activation – no details were given about how the beacon might have been activated.
12/18/2017 Romero Canyon Trail: Two hikers were unable to find the trail after entering Romero Canyon – they found the trail before help arrived.
12/23/2017 Seven Falls Area: An ankle injury leads to a carry and 'reindeer' ride out.