During a tragic weekend in late June record heat was the cause of three deaths in the Santa Catalina Mountains. One female hiker from out of state died on the Finger Rock Trail and two hikers from Germany died on the Ventana Canyon Trail. 
Heat related deaths seem to happen every year – there have been several articles recently with tips and information on staying safe in the heat – As Heat Wave Causes Hikers' Deaths, Experts Share Safety Tips, Staying safe on the trails in extreme heat and Desert Heat: Deaths, Rescuers and Ways to Stay Safe – all with good information and smart warnings, but it is hard to convey exactly how serious and intense the heat can be in Tucson in the summer.
With the recent heat related deaths the City of Phoenix Parks and Recreation Board considered a ban on hiking in extreme heat – which was not approved – but did put in place a ban on dogs on city hiking trails when the temperature is over 100 degrees. Phoenix proposal to ban hiking during extreme heat denied, ban of dogs is approved over 100 degrees – abc15.
From the Southern Arizona Rescue Association:
Southern Arizona Rescue Association is looking for hikers who are team players to join our group! If you are interested, please plan to attend one of two Orientations and the Candidate Hike:
Orientation 1 – Thursday, June 23, 7:00pm
Orientation 2 – Tuesday, July 19, 7:00pm
Applicant Hike and selection – Saturday, August 13

Attendance at one of the two Orientation meetings and the hike is a MANDATORY first step in joining SARA. Orientations are intended to tell you everything you need to know about the selection process and being in SARA, will last about an hour, and are held at the SARA house at 5990 N. Sabino Canyon Road. We will see you there!
A group of 4 family members out for a hike on the Butterfly Trail were reported missing – they were later found.
Mount Lemmon offers relief from the heat – KVOA.com: A short piece on trying to stay cool by escaping up to Mount Lemmon – it is, of course, always cooler at the top of the mountain… But recent temperatures have been high enough that it has been very hot even at higher elevations. If you are considering heading to the top of the mountain here is a short video about the Meadow Trail – Hittin' the Trails 4 You: Mt. Lemmon's Meadow Loop Trail – KVOA.com.
Campers recently spotted a black bear on Organization Ridge Road near a dumpster – a good reminder to be 'bear aware' when you are on the mountain. From Mark Hart of Arizona Game and Fish: "Overall it's the heat, the bears are hungry and they are thirsty and some are moving into higher country to escape the heat." Another sighting on Mt. Lemmon reminder to be bear aware – KVOA.com.
The Race Track Fire started on June 26th near Redington Road– the last update from June indicates the fire is unlikely to grow:
The Racetrack fire's perimeter remains 80% contained today. All forward progress of the fire has been halted. Three engines and two crews remain on the fire and are mopping up hot spots, rehabilitating control lines to minimize erosion from expected monsoon rains, and patrolling for additional heat. By the end of the work period today, the incident commander anticipates increased containment.
The fire burned approximately 800 acres in an area north of Redington Road, east of Agua Caliente Hill and west of Race Track Tank.
The cause of the fire is listed as under investigation, however I don't believe there was any weather/lightning in the Redington Road area at the time the fire started so it seems likely it will be labeled human caused.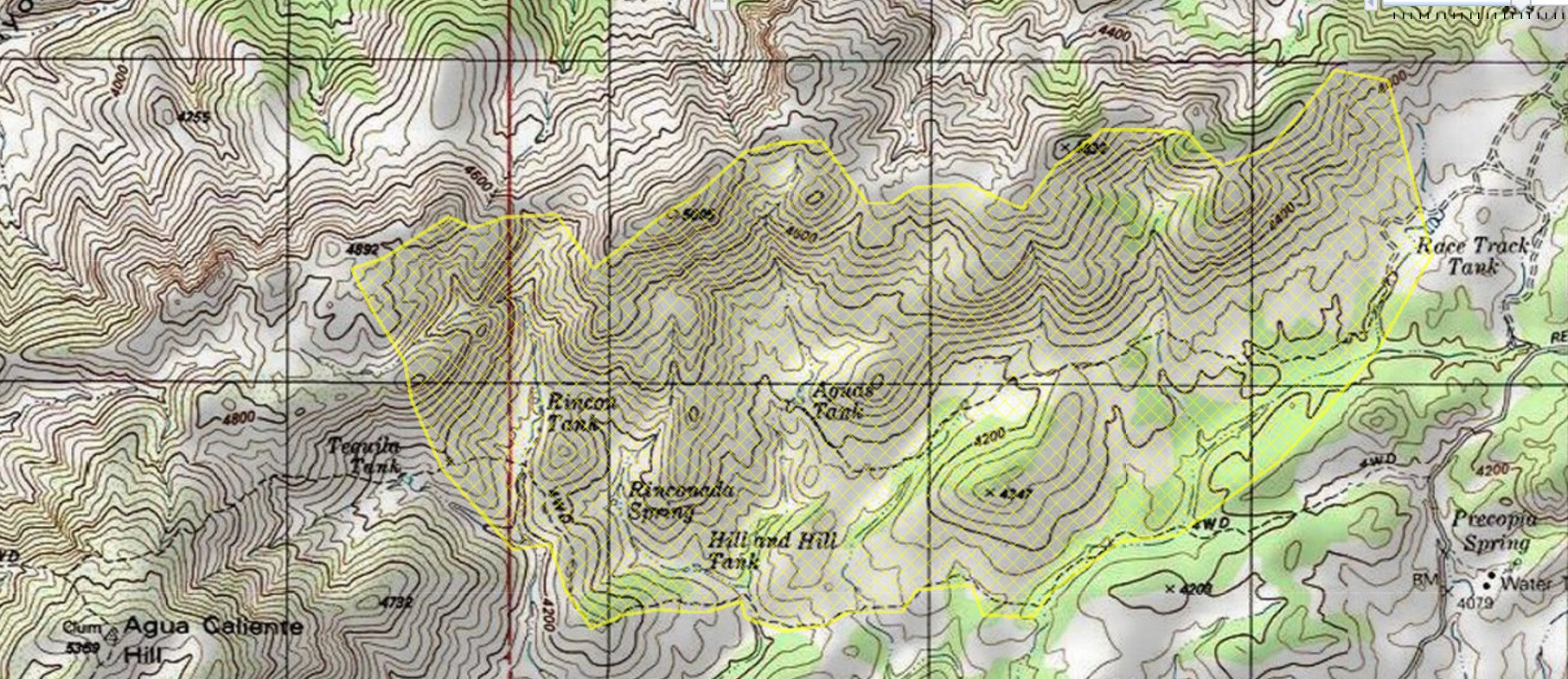 Milt Jensen, an experienced tower climber, died in an accidental fall while repairing the power to an amateur radio tower on Mount Lemmon. Well-Known DXer, DXpeditioner Milt Jensen, N5IA, Dies in Tower Fall – ARRL.com, Man dies after 50-foot fall off radio tower on Mount Lemmon – KVOA.com, Man killed in tower fall on Mount Lemmon – tucson.com.
The Santa Catalina Bighorn Sheep Reintroduction Project update for the period ending June 22 was released recently and unlike a number of recent updates there were no mortality signals from the remaining collars and the bulk of the report is filled with great pictures and reports from biologists about the Bighorn observed during the period.
Rescues/Accidents/Incidents including information from the SARCI Newsletter:
Wilderness of Rocks 5/1/2016 – Hikers coming up from Catalina State Park via Romero Canyon were stopped at the junction of the Wilderness of Rocks and Lookout Trail when one member was unable to continue. The group was given help out.
Butterfly Trail 5/23/2016 – A hiker with an ankle injury was carried out from the Butterfly Trail.
Box Camp Trail 5/26/2016 – Two members of a group hiking down the Box Camp Trail towards Molino Basin were exhausted when they reached Sabino Basin and were ferried by helicopter to Prison Camp – two other members of the group were given assistance near Shreve Saddle.