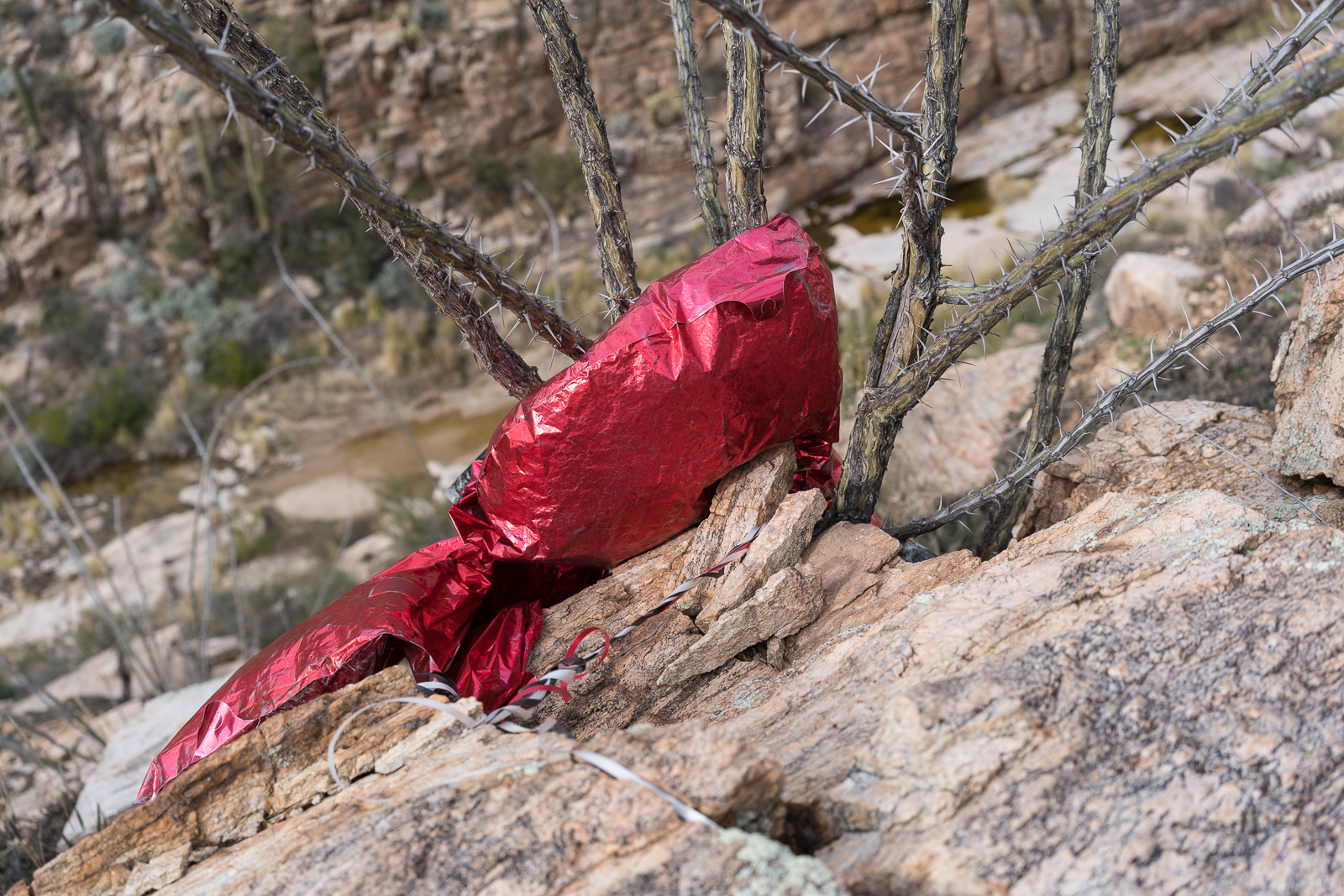 Balloons floating up into the sky can seem beautiful and symbolic – but after picking up balloons from an astounding number of places in the mountains – including many off-trail destinations with no sign of people/trash for miles – I cringe when I see a piece of floating trash ascending into the sky… For more sad pictures of balloons and a bit more information see Balloons in the Backcountry.
In January a boulder with a petroglyph was pushed over and some surrounding vegetation was damaged in Catalina State Park – if you have any information please contact the Coronado National Forest Supervisor's Office at (520) 388-8300. It is sad anyone would vandalize a site like this – January was not a great month in regards to vandalism with an incident also reported in Saguaro National Park. Vandalism at Catalina State Park – Coronado National Forest, Catalina State Park vandalism under investigation – Arizona Daily Star, Native American petroglyph vandalized at Catalina State Park – TucsonSentinel.com, Vandals strike Catalina State Park – Tucson News Now.
The comment period for the Catalina-Rincon FireScape Project  is open and the Forest Service is holding several open houses about this project:
Saturday, February 20, 2016 – 10:00 a.m. to 12:00 p.m.  Chuck Bowden Mt. Lemmon Community Center, 12949 N. Sabino Canyon Parkway., Mt. Lemmon, AZ
Tuesday, February 23, 2016 – 6:00 to 8:00 p.m.  Oracle Fire Department, 1475 W. American Ave., Oracle, AZ
Thursday, February 25 – 6:00 to 8:00 p.m.  Morris K. Udall Regional Center, 7200 E. Tanque Verde Rd., Tucson, AZ
The press release from the Forest Service provides this quick summary of the project – "The CRFS is a landscape-scale restoration project that focuses on promoting resilient ecosystems; protecting life, property, and natural resources; and encouraging natural wildland fire to function as a healthy process in the ecosystem" – and the Scoping Notice provides background including:
The fire history recorded by tree rings indicates that, since the beginning of the early 20th century, the frequency of natural fire has decreased dramatically. Tree-ring research has shown that for many centuries, the Santa Catalina and Rincon mountains shared broadly similar fire regimes and ecosystem properties. However, since the early 20th century, natural fire regimes have been significantly altered because of grazing (which removes the fine fuels that carry surface fire) and continued fire suppression.
The latest Santa Catalina Bighorn Sheep Reintroduction Project update was recently released:
As of 2/10 the total number of lambs confirmed by visual observation is now 13! The Friends of Catalina Bighorn Sheep Facebook page has links to recent video/pictures.
Ewe #39540 died in the first part of February – "she had suffered a severe injury to her left front leg in addition to a
superficial wound on her chest, both injuries likely sustained in a fall" – samples have been sent for disease testing.
Test results from Ewe #39554 who died in December indicate that she did not have pneumonia and that injuries sustained in a fall were the likely cause of death.
Coronado National Forest waives fees in honor of Presidents Day – Coronado National Forest: Coronado National Forest will waive fees at most of its day-use recreation sites Monday, February 15, in honor of Presidents Day – Fees are waived generally for day-use areas, such as picnic grounds, developed trailheads and destination visitor centers!
Recreation projects completed on Mt. Lemmon – Coronado National Forest: A recent press release from the Coronado National forest notes several recently complete projects include 22 new interpretive signs along/near the highway and new restrooms at the Cypress Picnic Area and Showers Point Campground.
Rescues/Accidents/Incidents including information from the SARCI Newsletter:
Finger Rock Trail 1/16/2016 – Hikers descending from Mount Kimball ran out of daylight on the way down the Finger Rock Trail, ended up at Linda Vista Saddle and couldn't find the way down.
Alamo Canyon 1/18/2016 – Hikers returning from Romero Pools ended up in on the slopes of Alamo Canyon.
Blackett's Ridge 1/20/2016 – A fall results in ankle, knee and face injuries – injured hiker was flown out by helicopter.