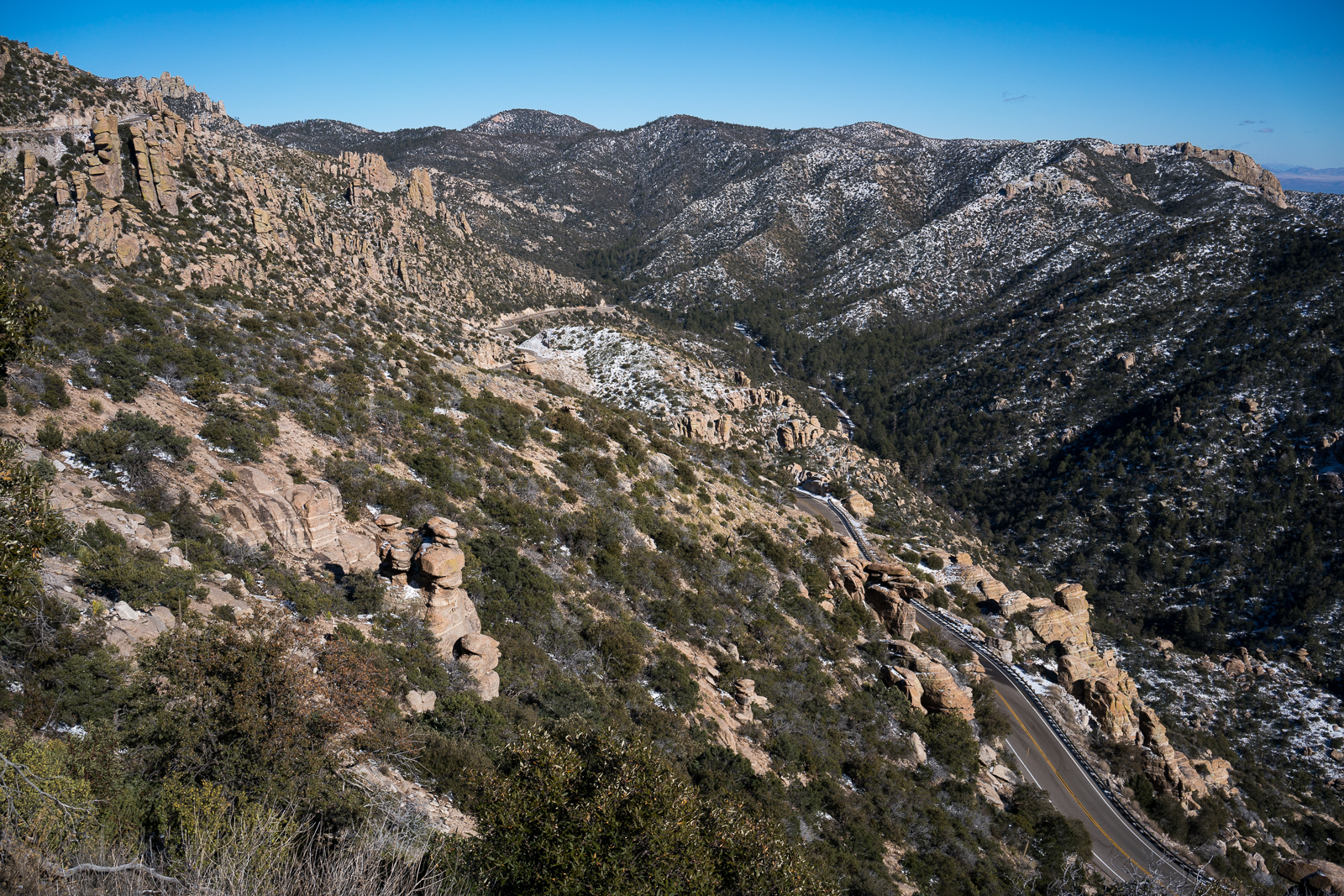 By mid-day the highway had re-opened – low on the mountain there was no sign of yesterday's storm – but somewhere before Bear Canyon snow started covering the ground. There was more snow higher on the mountain – and an impressive display of ice on the roadcut above the pullout for the Ridgeline Climbing Area.
Road to Mt. Lemmon closes as storm makes for a chilly Monday – Arizona Daily Star, Storm closes road to Mt. Lemmon – KVOA.com, Monday's winter storm brings fresh snow to Mount Lemmon – KVOA.com, Road to Mount Lemmon open – Tucson News Now.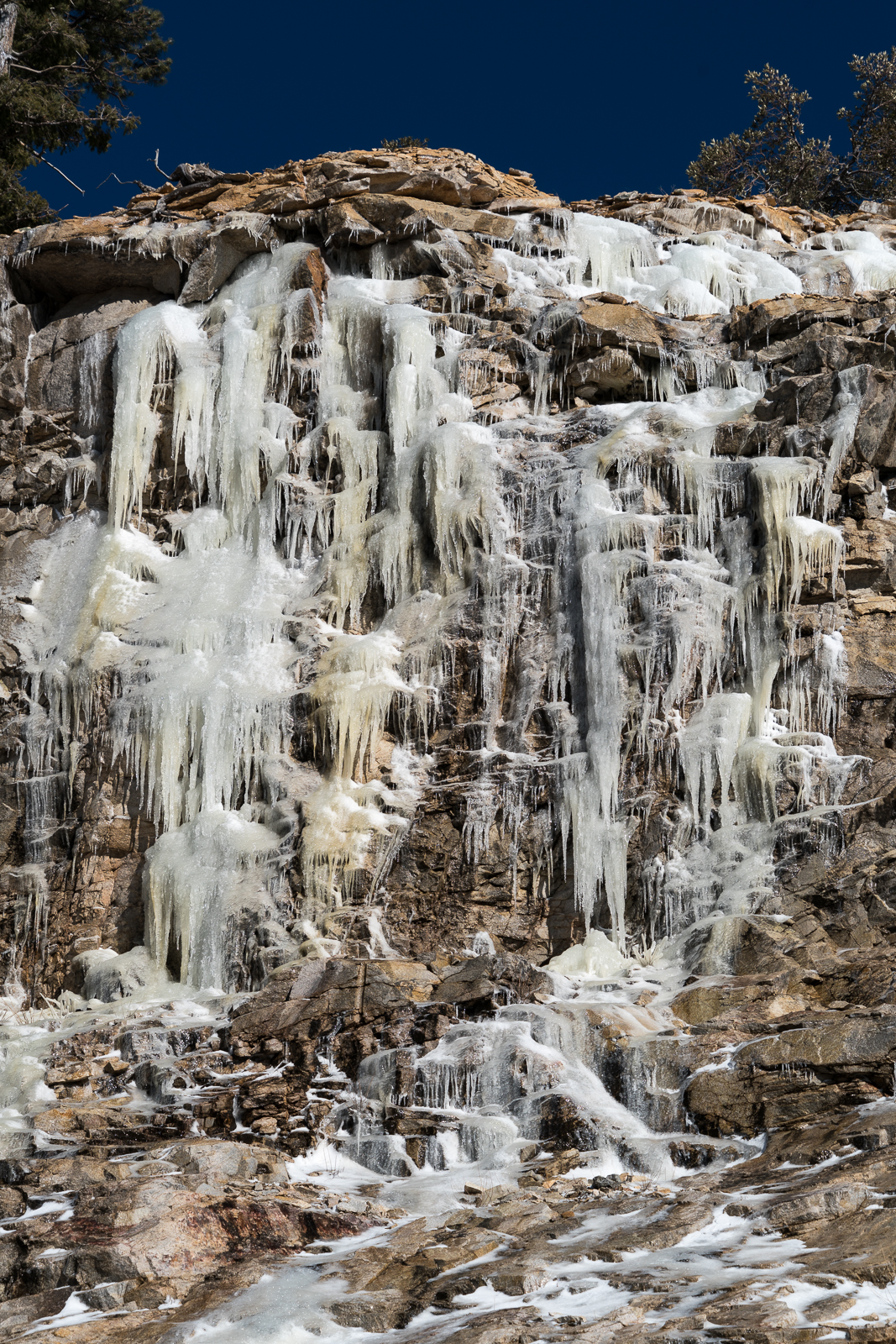 The latest Santa Catalina Bighorn Sheep Reintroduction Project update was recently released:
8 lambs have been confirmed this season!
The past several updates have talked about the collars dropping off as the batteries run out – 3 of the collars failed to drop off, but "This does not create any added potential risk to the animals since they are mature adults".
Since the end of 2013 there have been published updates on the project every two weeks – starting in March the plan is to go to once a month updates: "With the continued positive indicators on this project (including a successful November 2015 release and 2013 collars now dropping off as anticipated) the Catalina Bighorn Sheep Reintroduction Project is running smoothly and requiring less intensive management. Coupled with this milestone is an anticipated reduction in the frequency of the current routine bi-weekly project updates. Beginning in March we intend going to a monthly update schedule (issued on the last Friday of each month)."
Hiking around Babad Do'ag Trail – Toni Savanna Photography: a great set of pictures from the Babad Do'ag Trail!
Mt. Lemmon search crews looking for missing hiker – Arizona Daily Star, UPDATE: Hiker who went missing on Mount Lemmon found safe – Tucson News Now: A hiker missing after going for a hike on the Bug Spring Trail was found in good condition.
The Southern Arizona Buffelgrass Coordination Center recently made a Facebook  post about Sahara Mustard, an invasive species in the Sonoran and Mohave Desert – while I am not aware of Sahara Mustard being found in/around the Santa Catalina Mountains it was interesting to learn more about it – some information from the Arizona-Sonora Desert Museum – and from the TUBB CANYON DESERT CONSERVANCY SAHARA MUSTARD: FAQS:
Sahara Mustard threatens to bring a real "Silent Spring" to the Anza-Borrego Desert and other deserts of the Southwest. Sahara Mustard quickly multiplies to overshadow, poison, and rob water from the wildflower fields and blooming cacti that bring so many visitors from around the world to see the. Eventually, Sahara Mustard can kill even tough creosote, cholla and barrel cacti, literally taking over the desert and turning it into a mustard wasteland devoid of the biodiversity needed to sustain desert wildlife