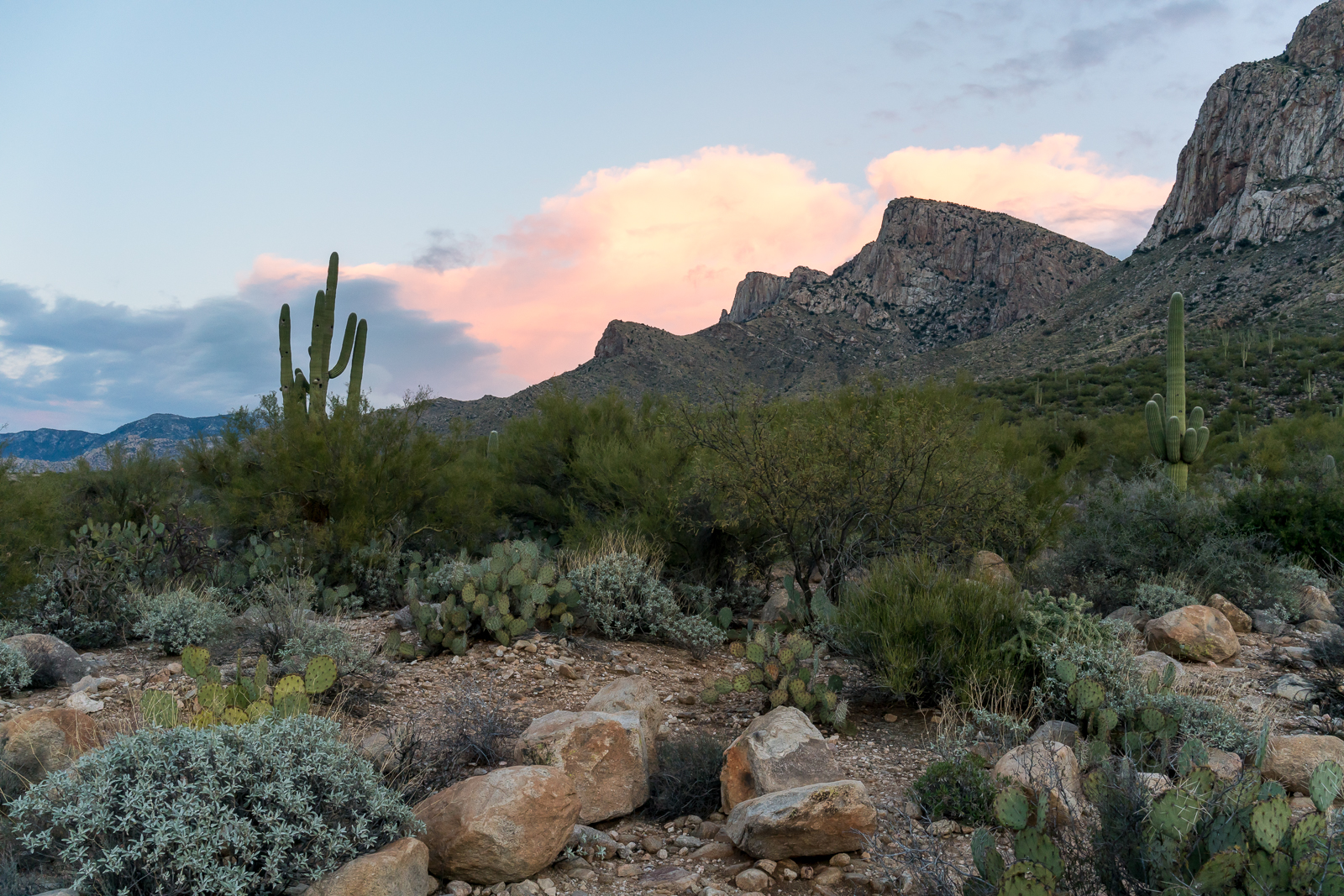 Catalina Hwy closed, 2 feet of snow expected this week – Arizona Daily Star: The Catalina Highway was closed because of weather, there was rain in Tucson and by sunset a beautiful layer of clouds covered most of the Santa Catalina Mountains – there should be some great mountain weather over the next week!
The latest Santa Catalina Bighorn Sheep Reintroduction Project update includes several interesting pieces of information:
Pregnant Ewe #39554 died during this period – a fall appears to be the reason for the death, disease testing has not been completed and the cause of the fall is unknown (although predation has been ruled out). Another bighorn found dead in Catalinas – Arizona Daily Star.
The collars on the Bighorn Sheep released in 2013 are running out of battery life and are expected to drop off in January of 2016 – it seems to me that the information from the collars will be missed, while there will still be quite a few sheep with collars the alerts from the collars have helped provide very interesting mortality information.
The yearly trail restrictions on off-trail travel in the Bighorn Sheep Management Area are now in place and will last until April 30 – this page has the details.
Arizona Zipline Adventures is getting closer to opening – located off of Mt. Lemmon Road past the American Flag Trailhead outside of Oracle Arizona Zipline adventures is planning on offering an eco-zipline tour, hiking trails, gold panning and team building activities with your corporate, family or school groups along with deli style food, camping gear/equipment and locally-sourced goods. New zipline in Oracle provides high and fast adventure over the desert floor – OroValleyVoice.com, Adventures opening soon – CopperArea.com
Brilliant light bathes Ventana Canyon at day's end – Arizona Daily Star: Nice pictures and information on the Ventana Canyon Trail.
Kick off 2016 with an invigorating hike – Arizona Daily Star: I hope you have been able to get out and enjoy the great outdoors in 2016 – one option for getting out on the 1st was Arizona State Park's "First Day Hikes" program that included a hike on the 50-Year Trail in Catalina State Park. Catalina State Park and Oracle State Park host a wide variety of events – well worth checking their calendars for interesting opportunities!
Rescues/Accidents/Incidents including information from the SARCI Newsletter:
Box Camp Trail – 11/29: Hikers on the Box Camp Trail decide to continue down rather than hike back up – they loose the trail and one hiker continued on for cell phone reception, he was eventually brought out by helicopter. A search was set in motion for the other hiker who had been found and helped by other hikers.
Finger Rock Trail – 12/4: Hiker ran out of water and becomes exhausted – called for help but was able to continue down.
Injured hiker rescued from Ventana Canyon – Arizona Daily Star: A rescue after a hiker fell 30′ in Ventana Canyon. The SARA report on this incident provided some additional details: "A hiker scrambling around on a rocky pinnacle near the Window pulled loose a handhold and fell about 30 feet. His companion was unable to reach him, but called for help" – the injured hiker was short-hauled out.