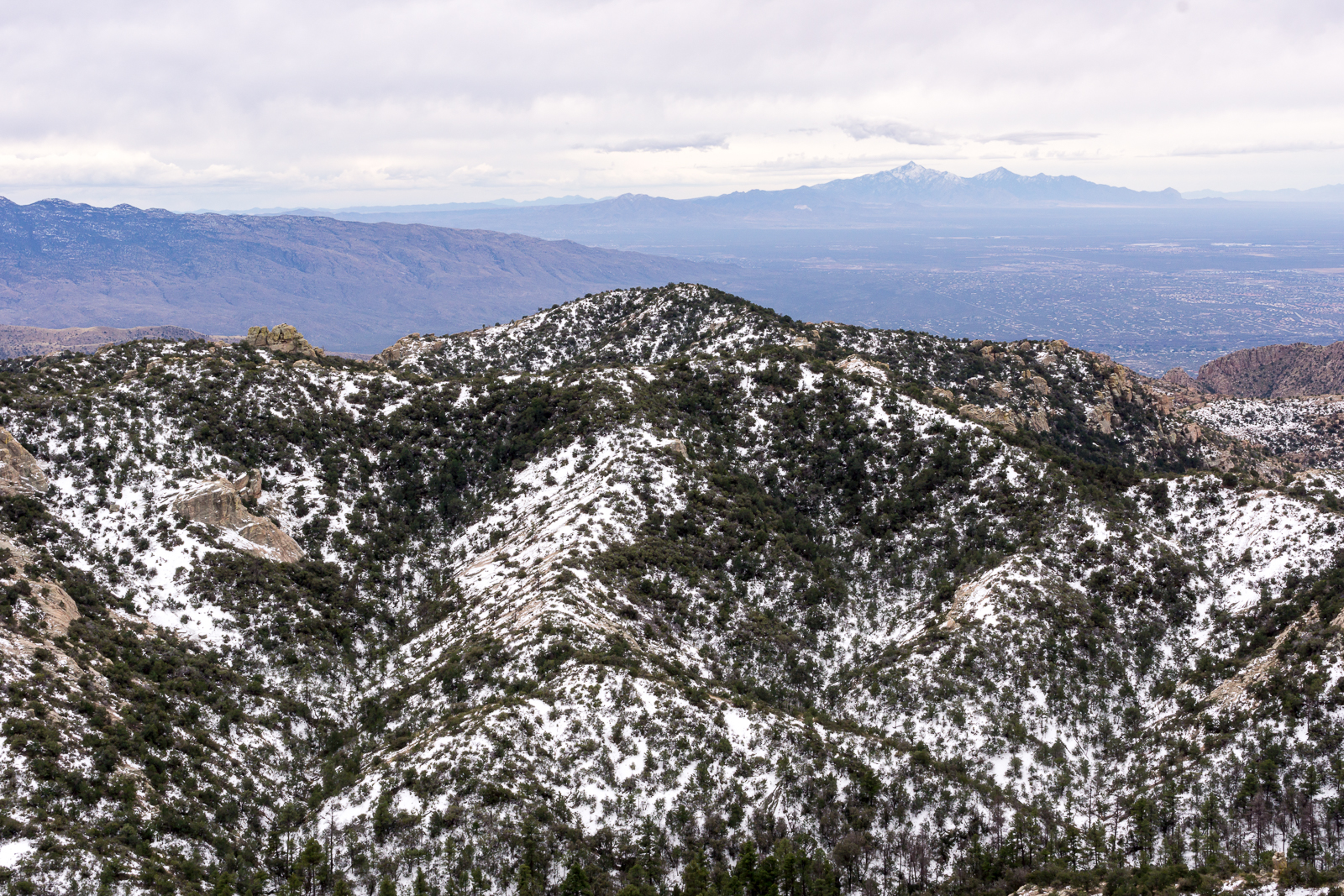 In places the snow has melted – but there is still plenty of snow on the mountain to enjoy!
There were two Bighorn Deaths in the first part of December. Initial lab tests confirm that Ewe #37448 died of pneumonia. Ewe #37441 was killed by a mountain lion. The latest project updated noted that:
A subcontractor to the project used a drone to monitor his dogs during pursuit of the lion that preyed upon Ewe #37441. The Department routinely uses low-level fixed wing and helicopter flights in connection with wildlife management projects. The pursuit was terminated upon the Department learning of use of the drone as the Department has not completed ongoing evaluation of how to best use such technology consistent with all applicable rules and regulations.
The Friends of Redington Pass held a cleanup with 50 volunteers on December 12th – pictures and a great summary are posted on their Facebook Page – the work included hauling away a burned out mini-van! Group looking for volunteers for Redington Pass cleanup – Tucson News Now.
Molino Basin puts on an autumn color show – Arizona Daily Star, Find autumn color on a Sabino Canyon hike – Arizona Daily Star: Two articles pointing out the beautiful fall colors in Molino and Sabino Canyons, the Cottonwoods and Sycamores in these – and other canyons – are a great source of late fall/winter color.
Catch comet Catalina on its way out of the solar system – Astronomy Magazine: Pictures of Comet Catalina with two tails! Comet Catalina is notable both for being currently visible in the sky and for being named after the Santa Catalina Mountains!  Comet Catalina showing two tails – Tucson News Now.
Rescues/Accidents/Incidents including information from the SARCI Newsletter:
Romero Pools – 11/1: Hiker missed the first crossing, descended the canyon and was accompanied out after reaching the Canyon Loop.
Blacketts Ridge – 11/5: Hiker with chest pains lifted out
Windy Point – 11/11: Fall
Agua Caliente Canyon – 11/22: Ankle injury while coming down the canyon
Marshall Gulch – 11/27: 30′ Fall
Grand Canyon National Park Backcountry Management Plan and Draft Environmental Impact Statement – Open for Comment: This site is focused on the Santa Catalina Mountains, but Grand Canyon National Park is probably of interest to almost anyone in Arizona who loves the outdoors… The comment period is currently open on a new Backcountry Management Plan – if you care about the Grand Canyon it is worth reading. This plan is mentioned here in part because the current Preferred Alternative includes seasonal permits and fees for day hiking to the Colorado River on the major corridor trails and notes the potential for future daily use limits, year round permits and similar policies for other trails. This would be a huge change for hiking in the Grand Canyon – please consider commenting. From the plan:
Implemented on [Backcountry Management Plan] Adoption

Day use permits required seasonally for [the North Kaibab Trail below the Manzanita Resthouse, South Kaibab Trail below the Tip Off and the Bright Angel Trail below the junction with the Tonto Trail]
Expected cost of day use permit at least $5 per person per day
Outreach and user education
User monitoring and data gathering
Protocols for Special Use Permits

Potential Adaptive Management

For [the North Kaibab Trail below Manzanita Resthouse, South Kaibab Trail below the Tip Off and the Bright Angel Trail below the junction with the Tonto Trail]

Implement group size limits (e.g., 30); adjust limits as research determines
Daily use limits (e.g., 250); adjust limits as research determines
Designated days for group or individual events
Day use permits required year-round

Policy for other trails