After visiting the La Milagrosa Trail several times over the past few months and consulting maps of the area I began to wonder why I had never noticed passing the junction with Forest Road 4446 where it turns towards Whitetail Tank, it seems so clear on the map…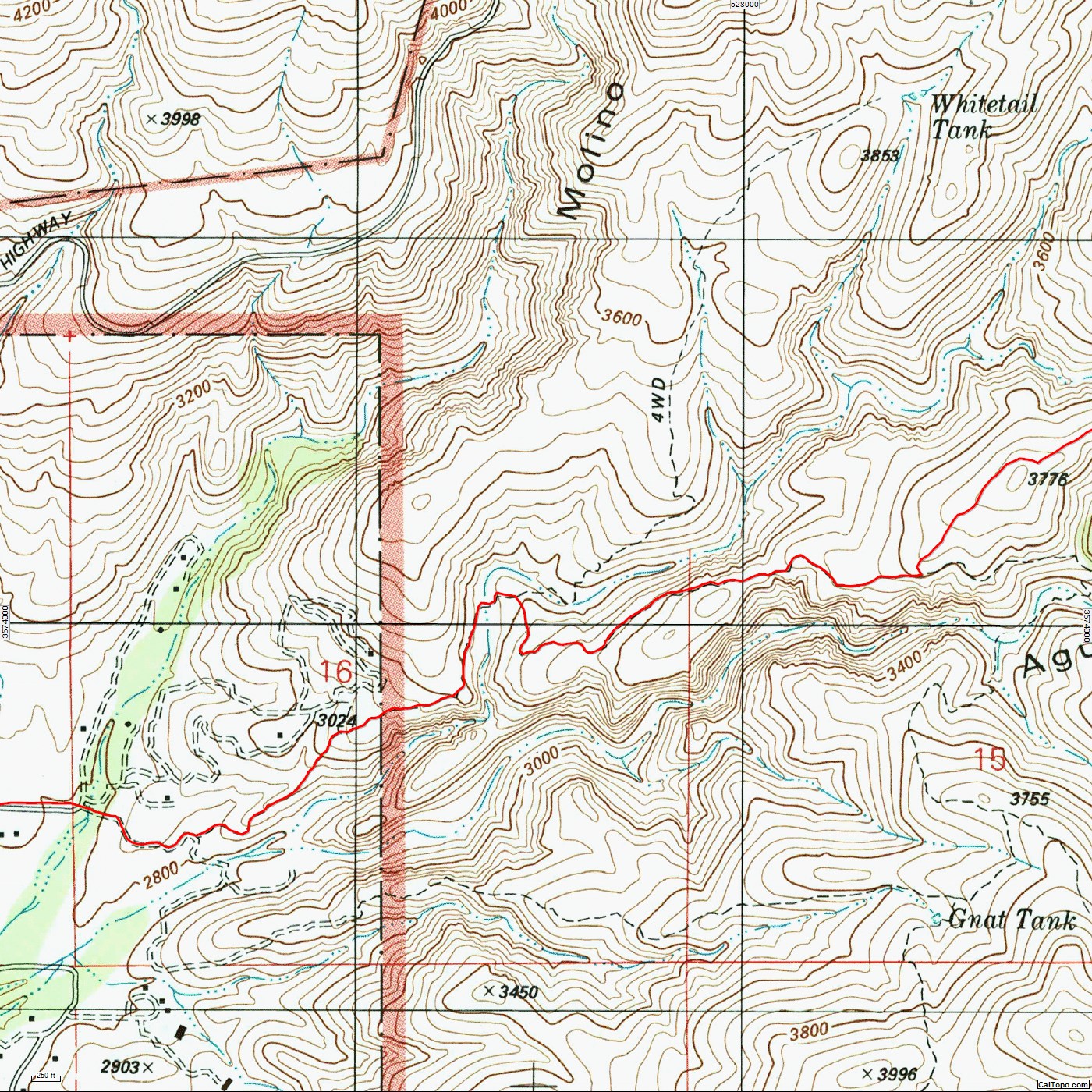 The La Milagrosa Trail in red - Horsehead Road (where the hike starts) on the left - Forest Road 4446 to Whitetail Tank (marked 4WD) breaks from the La Milagrosa Trail near La Milagrosa Canyon
Standing on the Milagrosa Trail looking at (what may be) a faint old grass covered 4wd road I tell myself that on the other side of the canyon FR4446 will be obvious – that it is simply well disguised near the La Milagrosa Trail so that hikers and bikers won't accidentally turn onto it. Unfortunately on the other side of the canyon I actually find even fewer hints of the old road… I watch the GPS and try to follow the line on the map – sometimes directly and sometimes criss-crossing it's path – occasionally finding it, but mostly just looking for it – thankfully the terrain is open enough that it doesn't really matter that the desert seems to have completely reclaimed stretches of the road.
The tank is larger than I expected, dry and covered with short brown grass. Standing in the tank a small cliff catches my eye – a few minutes of walking in the small drainage above the tank and I reach a lovely drip, black and wet, with clumps of ice on the tree below.
From the base of the cliff I worked up to the ridge above and then down into the canyon below, eventually looping back to the La Milagrosa Trail via a wandering off-trail route.
Whitetail Tank from the Avenida de Suzenu Trailhead – one-way – is approximately 2.8 miles with 1,100′ of elevation gain – maps show FR4446 as a 4WD road but don't expect to find much of the road and certainly don't count on it for navigation, take a map and plan on using it – this is essentially an off-trail hike.