Years ago our friend Alex told us about Mount Miguel – I was surprised we had not heard about it since the name appears on the USGS map and it is relatively close to Tucson and the Esperero Trail – but it wasn't until seeing Mount Miguel last week from the Esperero Trail that we really thought about it again…
We started the day in overflow parking for Music in the Canyon (held by the Friends of Sabino Canyon) – there seemed to be quite a few people attending the event! After walking back to Sabino Canyon we headed up the Esperero Trail. Alex told us that he had left the Esperero Trail at the first obvious slope that heads up to Mount Miguel – but recommended instead to stay on the trail longer – so we took the trail up to Cardiac Gap and then hiked south along the ridge to Mount Miguel.
Strong wind at the Gap and on the ridge was a pleasant surprise – we may not have found the best path along the ridge, but the route we took was beautiful (and not too brushy!) – and before long we were at the top! We enjoyed the views into Sabino Canyon and Tucson and watched the light change and shadows grow as the end of the day crept closer. Soon it was it was time to head down – we left San Miguel alone on the top looking over Tucson.
We took a fairly obvious/short line east down to the Esperero Trail – this route looked a little steep at first but was actually quite reasonable. On the Esperero Trail we lost the light and happily put on our headlamps to finish out our hike under the moon and stars.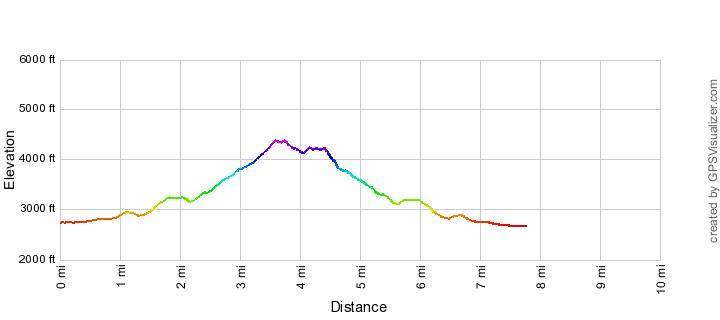 Elevation Profile for Mount Miguel via Esperero – Cardiac Gap